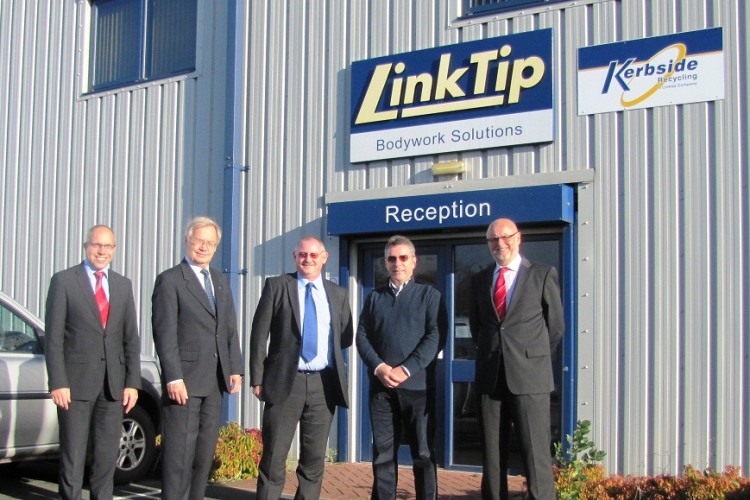 To continue the growth of the business, NTM-GB has acquired the LinkTip Kerbside Group, a leading vehicle body builder, based in the West Midlands.
LinkTip was established 32-years ago following the design and manufacture of the very first under-floor tipping device - a scissor-action linkage design for 3.5t to 7.5t GVW chassis, which soon became the market leader.  Demand from customers launched the company into designing and manufacturing the complete body to complement the tipping equipment.  The company continued to grow and its product range increased to include, ground level demount systems, food waste collection vehicles, lifting equipment, kerbside,  side and rear loading RCV's, and in 2008 the company launched the Polybody, the first plastic vehicle range.
NTM-GB expressed an interest in the company and the factory, whilst visiting LinkTip Kerbside Recycling on other business and talks began and in October 2011 the deal was concluded.

Westley said, "With NTM-GB's growth rate in the UK we were looking to expand our production capacity and LinkTip Kerbside Recycling and its facilities provided us with the perfect platform to build more body units and increase our large vehicle installation work."
The two companies will continue to run separately, with Paul Westley as managing director.  NTM-GB plan to continue with the LinkTip Kerbside Recycling products and their customers.  Westley added, "As a company NTM is now able to offer a complete range of products from 3.5 tonne tippers, non-compaction refuse vehicles right up to the largest vehicles in our range, including Front End Loaders and the four compartment Quatro.  To my knowledge we are the only company in the UK that can offer such a vast portfolio of products."
Westley concluded, "We are all very excited about this; both companies have a strong reputation for quality and reliability, and a very committed workforce. This I believe will help secure our future and growth in the UK market."
Got a story? Email news@theconstructionindex.co.uk