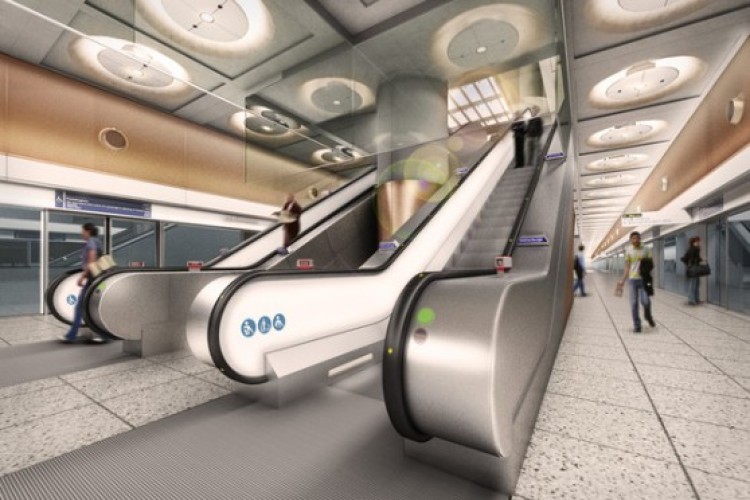 Otis will also maintain the escalators for 30 years under then £190m contract.
Installation of new escalators for the tube network is due to begin in early 2013 with work underway from 2014 at the Crossrail stations.
The contract is one of the biggest orders ever placed in the UK for station escalators. Placing one big order rather than several separate ones is expected to save £65m over the 30-year maintenance term.
Crossrail procurement director Martin Rowark said: "Every day millions of passengers on London's transport network are reliant on escalators to get them to and from station platforms. Crossrail will carry over 200 million passengers each year and escalators will play a crucial role in getting passengers into the massive new stations and onto trains that will whisk them across London. Crossrail and TfL have combined our buying power to secure significant cost savings as well as a standardised escalator for stations and a long-term maintenance deal."
Under this contract, Otis has committed to a 60% improvement in Tube escalator reliability with incentives to increase this further and payments are linked to achieving these improvements.

There are more than 428 escalators across the tube network, each escalator operates for 20 hours a day and they are intensively used so need to be built to last. The cost of designing, building and maintaining a single escalator over its 40 year life is around £2.5m. This contract will see up to a 57% capital cost saving per standard escalator, TfL said.
London Underground director of strategy and service development Gareth Powell said: "We are engaged in a massive programme to upgrade the tube which will, with Crossrail, see transport capacity increase by more than 30% over the next 10 years. During the coming years, London Underground and Crossrail will install over 100 new escalators; providing a common industry standard escalator across the Tube network will deliver improved reliability and better value for customers."
The contract covers the provision of at least 50 escalators at 13 stations across the tube network in addition to escalators for the Crossrail stations at Paddington, Bond Street, Tottenham Court Road, Farringdon, Liverpool Street and Whitechapel.
The component value of the Crossrail escalators is approximately £40m.
Got a story? Email news@theconstructionindex.co.uk