The plan is to build an additional 54,000 sq ft of office and studio space as well as a new 112-bed Premier Inn.
The proposed 10-storey building, totalling 100,000 sq ft, will have four floors dedicated to the hotel while the remaining six will be let for commercial use.
Subject to planning approval, the aim is to start construction by the end of this year, with completion a year later.
MediaCityUK is home to the BBC, ITV, Coronation Street and the University of Salford, as well as more than 200 smaller media and tech companies.
MediaCityUK managing director Stephen Wild said: "Technology, media and creative is a rapidly growing sector in Greater Manchester, which itself is now considered the second largest creative and digital hub in Europe.  MediaCityUK has been a key trigger in the explosion of creative start-ups and national relocations so it's essential that we give these businesses the right type of space and the flexibility to grow organically.
"Equally, as MediaCityUK's business community has thrived and our leisure offering has grown, so has its reputation as a go-to destination. The arrival of a new hotel will service both those here doing business or visiting."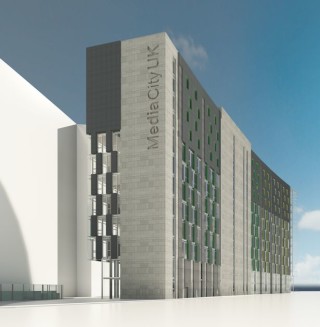 Got a story? Email news@theconstructionindex.co.uk