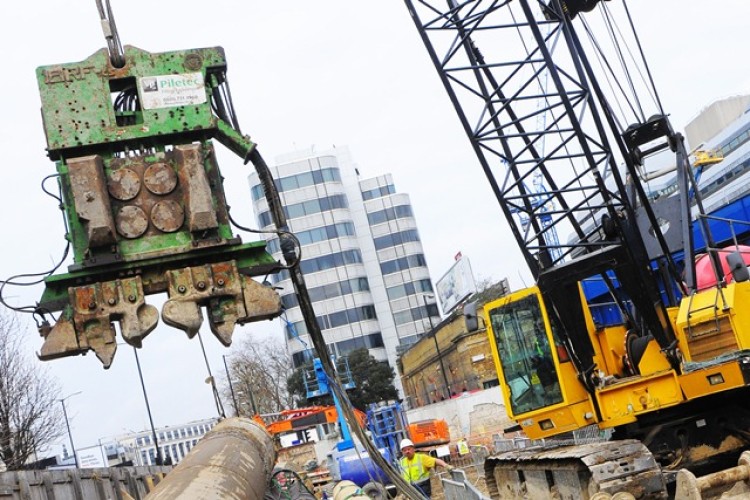 240 Blackfriars Road is a new 30 storey mixed-use development for Great Ropemaker Properties, a joint venture between Great Portland Estates and Ropemaker Properties. Main contractor on the £70m project is Mace.
The site, on the South Bank of the Thames near Blackfriars Bridge, is bounded on one side by a Victorian brick viaduct that carries the overground and Thameslink rail lines into Blackfriars Station.
Miller Piling's £1.2m subcontract required the installation of 280 piles to form a secant piled basement box together with 168 reinforced concrete bored bearing piles of 750mm diameter along the line of the viaduct.
Poor ground conditions meant that that foundations had to go deep; the concrete bearing piles range in length from 20m to 42m. And because of the loose, variable ground conditions in the upper layers, temporary steel casings were driven down to approximately 12m before the pile could be bored in the dry stable clay found at depth.
Driving these casings so close to the viaduct with a traditional impact hammer carried the risk of structural damage as well as creating a nuisance to nearby businesses. Miller therefore chose a crane-suspended RF 18 vibrating hammer from Piletec.
The ICE RF 18 is a heavy-duty hydraulic vibrating hammer designed for resonance-free operation. This means that the hammer's eccentric moment is switched off during start-up and switched back on only once the mechanism has reached its operating frequency.
In this way, any harmful resonance with the soil's own frequency is avoided. The amplitude can also be adjusted between zero and 100% so that the maximum permitted vibration level or peak particle velocity is never exceeded.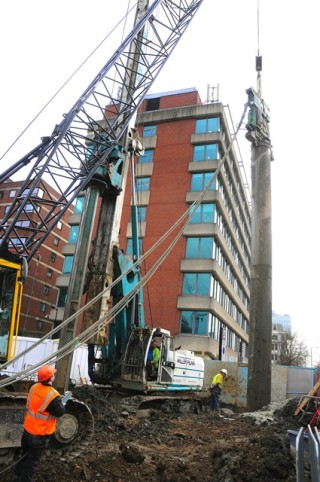 Miller Piling technical manager James Hayward said that the low-noise hammer proved the ideal solution: "We have recently used a similar method, also with Piletec, on a larger development at Tower Bridge. We decided it was perfect for this project too."
On the Tower Bridge project, Miller used a high-frequency 1423 hammer and although that project was larger, with more than 1,000 piles to install, Blackfriar's Road was more challenging due to the close proximity of the viaduct carrying a busy railway past the site.  The RF 18 was considered a more appropriate tool for this job.
Despite these challenges, the piling operation went as planned, said Mr Hayward: "The hammer worked very well throughout the works ensuring we could maintain our programme commitments".
When completed, the building will provide 223,000 sq ft of office space, just under 5,000 sq ft for retail and 9,000 sq ft of residential space comprising 10 luxury apartments. Foundation work was completed in April and work has now started on the building's insitu concrete frame.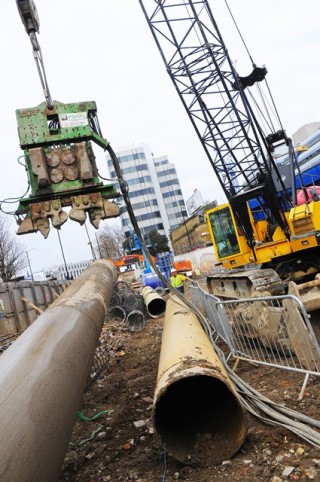 Got a story? Email news@theconstructionindex.co.uk