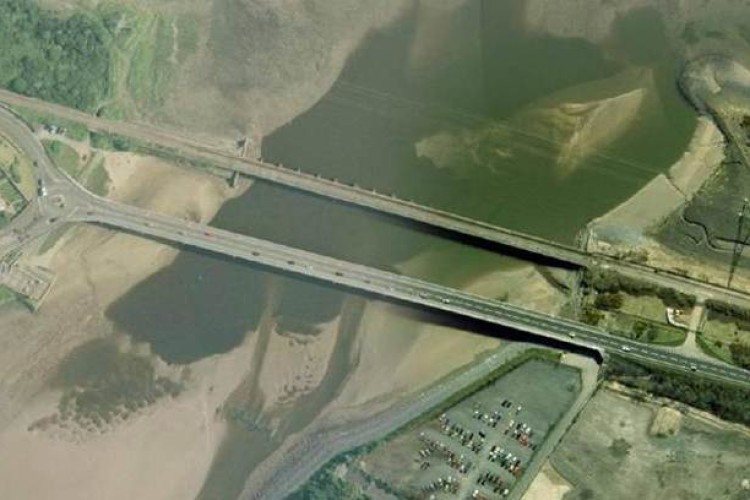 Jointly funded by Network Rail and the Welsh government, the scheme combines two core programmes of work - the replacement of the Loughor viaduct and the installation of an additional six-mile track between Cockett West Junction and Duffryn West Junction.
In addition, the disused eastbound platform at Gowerton station will be reinstated to cater for the new track.
With rail passenger numbers in West Wales forecast to rise by 20% by the end of the decade, Network Rail is backed by the Welsh government and the South West Wales Integrated Transport Consortium (SWWITCH).
Network Rail Wales route managing director Mark Langman said: "This scheme has come about by a shared vision with the Welsh Government and SWWITCH, and the recognition that investment in rail infrastructure is good for the economy and will help support and nurture Welsh economic growth. We hope that local authorities, passengers and the local community share our vision of the long term benefits and support us during the construction works to deliver the scheme successfully.
"The scheme promises to bring huge social economic benefits in southwest Wales by improving capacity and connectivity to key employment centres such as Swansea, Llanelli, Carmarthen, Fishguard and Milford Haven. There will be an improved passenger experience with shorter journey times and better connections that will also encourage modal shift, potentially removing around 300,000 trips from road to rail and improving the green credentials of rail."

Envisaged benefits of the scheme include:
A new structure at Loughor and that is strong enough to support two tracks.
Better performance on the railway as the additional new track will allow trains to continue to run when one of the lines is shut or congested.
Provide more capacity on the railway to potentially enable two more trains to run between Swansea and Llanelli and one more train to run between Swansea and Carmarthen per hour.
A bigger, accessible and secure Gowerton station with two platforms, a new DDA compliant footbridge with ramps, real-time customer information system, CCTVs and better lighting
Modernised signalling infrastructure and enhanced crossing equipment at Duffryn to improve infrastructure reliability and safety
Stronger bridges at Traffle Mill, Gypsy Cross and Rhosog
Subject to planning approval and listed building consent, Network Rail is proposing to keep the existing natural stone abutments and some of the Grade II listed trestles and erect a small section of the old Loughor viaduct on the West shore as part of its conservation efforts.
Network Rail yesterday submitted a planning application to Carmarthenshire Council to replace Loughor viaduct. Separate planning submissions for works to the bridges (Traffle Mill, Gypsy Cross and Rhosog) and Gowerton station will be submitted to the City and County of Swansea Council early next year.
The aim is to start construction work at Loughor viaduct in spring 2012 and upgrading work at Rhosog bridge and Broadoak Tramway by the autumn. Upgrading work at River Lliw and Gypsy Cross bridges should start next winter.
Got a story? Email news@theconstructionindex.co.uk