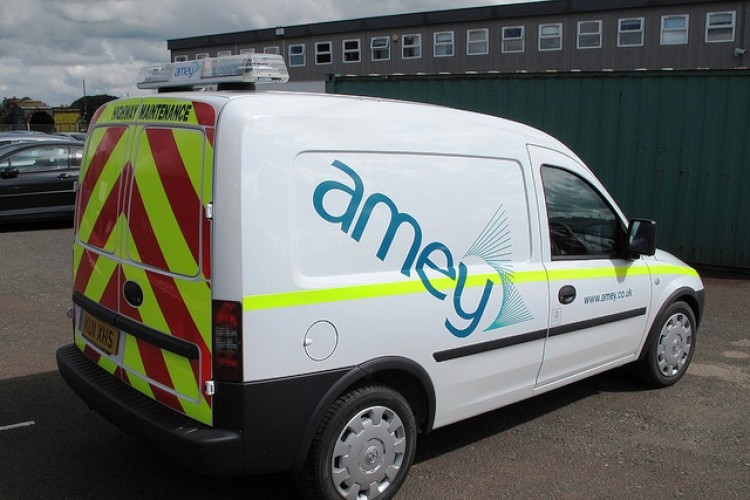 Amy used the new way of working on its upgrade to the central reservation barrier on a 2.3 mile stretch of the M5 between junctions 5 and 6.
Its innovation saved an estimated £500,000 and cut two week off the amount of time road works were on the carriageway.
Highways Agency project manager Charlotte Foster said: "Traditionally these works would have been carried out using lots of excavators to breakout the entire concreted central reserve and backfilling with sub-base material up to the underside of the proposed concrete barrier.
"Successful trials were undertaken earlier in the year which established the feasibility of profile planing the concrete down to the required levels. The concrete alone is not difficult to plane, but the central reserve has hundreds of steel safety fence sockets embedded into it. With the planer configured correctly, it was possible to plane out the concrete to the required depth between 100 and 350mm.

"Using this technique the overall scheme programme was reduced by approximately two weeks when compared to a traditional method. There have also been savings made due to the reduced quantity of materials removed and imported – approximately 2,000 tonnes less removed and 1,000 tonnes imported. This has also reduced the environmental impact of the scheme as it has reduced the amount of wagon journeys by approximately 200 journeys and greatly reduced the amount of material sent off site for screening.
"And there's also the addition benefits, our workforce were exposed less on the live carriageway and delays to the general public were reduced as the scheme length was shortened by two weeks."
Amey account director Scott Millar said: "As a company we are always looking to introduce innovative techniques and lean procedures in order to deliver savings for our client - the Highways Agency. By introducing new ways of working on the M5 at Oddingley, we have improved sustainability by reducing CO2 emissions and increased productivity on site at the same time as delivering substantial savings for the client."
Got a story? Email news@theconstructionindex.co.uk