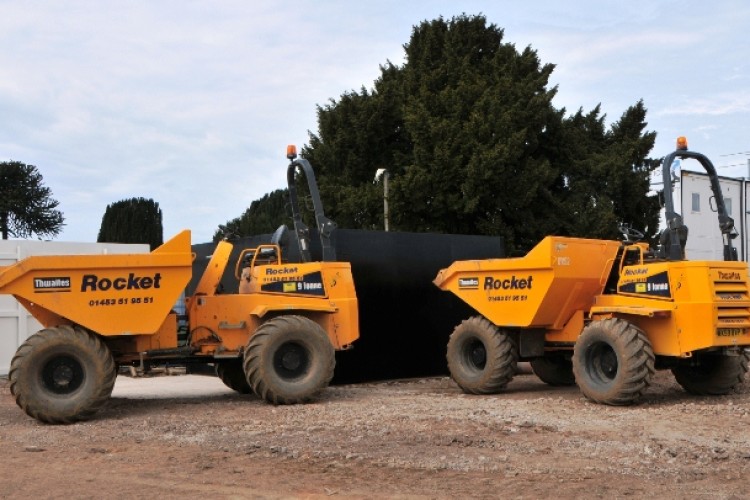 Barratt Developments' Hanham Hall project, near Bristol, is one of the first large-scale zero carbon communities in England and the first by a major housebuilder to meet the highest level (Level 6) of the Code for Sustainable Homes.
Contractors working on the site must comply with 90% of every single item of the code including the type of equipment used. For the general earthmoving phase this includes several 9t front-tip Thwaites dumpers fitted with the 100hp Perkins 'Green' engine, supplied by Dursley-based Rocket Rentals.
"The plant requirements for the contract are very stringent and several modifications had to be made to these new machines even before they were allowed on site," said Rocket Rentals director Simon Tomblin.
"The Thwaites dumpers are already very fuel efficient using a low emission-compliant engine as standard, but we also had to flush out the standard system and use bio-degradable hydraulic oil and modify the downward exhaust pipes to side pipes to reduce the amount of dust blown about the site."

Rocket Rentals was one of only a few rental companies prepared to go to this amount of trouble and expense to supply machines to the contract.
"We are as keen as anyone to make this zero carbon development work," said Mr Tomblin.
The year alone, Rocket Rentals has added more than 40 new Thwaites dumpers to its fleet. The order from local dealer Holt JCB included Thwaites 10t, 9t, 6t standard and swivel machines as well as 3t standard, swivel and narrow dumpers.
"We now have about 90 dumpers in the fleet and will be making another big order next year," he said.
Got a story? Email news@theconstructionindex.co.uk