Xena, which grew out of Dorman Long Technology in 2002 and was sold to private investors in 2006, had two main products. It started by producing 10 tonne capacity platform cranes (pictured below), which was first used on the construction of the Boyne Bridge in Ireland by Cleveland Bridge in 2002.
In 2004 it developed and patented the XenaDeck loading platform, only to see a rival system infringe its patents and take much greater market share, including a role on the Shard project. Xena fabricated in the region of two dozen cranes, before moving more towards the loading platform as the prime focus of the company's business.
Administrators from RSM Tenon were appointed to Xena Systems Ltd by the company's directors on 21 May. A spokesperson for the administrators was not prepared to discuss the company's affairs, reasons for its failure, or possibility of resurrection, but she did say that the deadline for offers to purchase assets had passed last week. The official notice of appointment of administrators was published in the London Gazette yesterday.  
Company accounts indicate that Xena Systems made a trading loss of £1.5m in 2010 and £1.2m in 2009. Net liabilities on 31 December 2010 stood at £201,000.
After Dorman Long sold the business, the company was owned by investors with no experience of the construction industry. Chairman and majority owner was Simon Constantine, an accountant who built up medical equipment company Life Sciences International before selling it to ThermoFisher Scientific for around £300m in 1997.

Co-directors were Jonathan Ruga, CEO of Sentry Financial Corp of the USA, based in Salt Lake City, Sentry senior vice president Andrew Bebbington. CEO was John Fuller, whose background was in the automotive industry with Rover and Mayflower. Mr Fuller could not be reached for comment as he was "on his boat and not in the country".
In April 2011, Xena Systems issued court proceedings against Cantideck and Conquip Industrial for infringing Xena's European patent for its XenaDeck rolling platform. Xena secured a court order requiring Conquip not to infringe the patent in the future, to hand over any infringing products they currently hold to Xena and to pay compensation.
The same month, Cantideck bought the loading platform division of Cranetech Construction Solutions, adding a further 36 platforms to its fleet.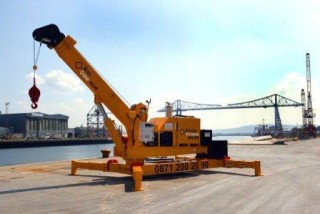 Got a story? Email news@theconstructionindex.co.uk