The event was staged to mark the fact that Balfour Beatty will this year feed 10% of its £10bn+ turnover down the supply chain to small businesses.
In 2013 Balfour Beatty put £750m of business out to small and medium sized subcontractors and suppliers. This year that figure will top £1bn for the first time, the company said, making it "the largest ever by a UK construction company".
This money will be spent across 6,000 SME suppliers, making an average of £170,000 for each.
Prime minister David Cameron said that this showed that the government's plans were working.
Mr Cameron met Balfour Beatty's UK construction chief Nick Pollard and a selection of local suppliers at the contractor's Westminster student accommodation project for Urbanest.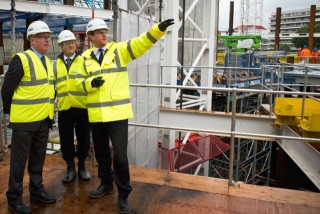 The prime minister said: "Giving businesses the confidence to invest and create jobs is a key part of our long term economic plan. Balfour Beatty's commitment to spend a record £1bn on small and medium sized businesses this year is very welcome evidence that this plan is working – supporting thousands of jobs within small and medium businesses, which will give hard-working people economic security for the future."
Balfour Beatty is the UK's largest construction contractor. It has more than 8,000 active suppliers, of which more than 6,000 are small and medium sized businesses, working on over 1,000 live projects across the UK at any one time.
Balfour Beatty's 'Sustainability Blueprint' commits it to having its supply chain spend independently audited so that it can measure not only how much goes to SME companies but also how much to women-owned businesses. In 2013 Balfour Beatty spent "at least £40m" with companies that are 51% or more owned by women.  "We intend to build on this baseline as we move forward," a spokesperson said.
Got a story? Email news@theconstructionindex.co.uk