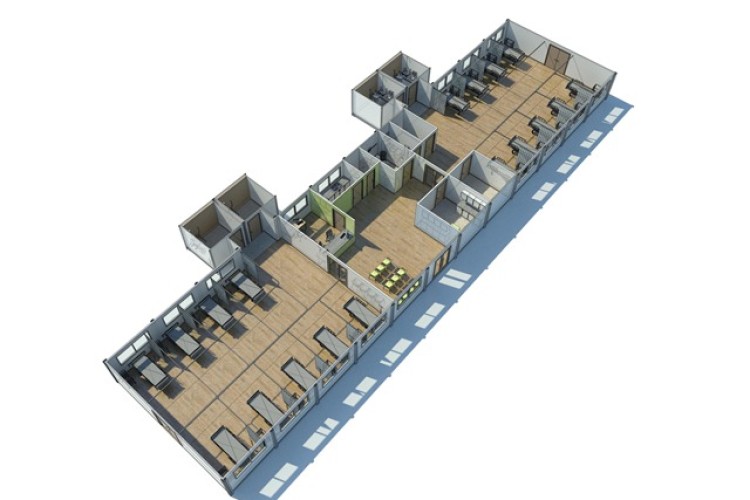 The buildings come ready-to-use and fully equipped for temporary hire or permanent use.
They are constructed to the latest healthcare standards, including HTM (Health Technical Memoranda), HBN (Health Buildings Notes), SHTM (Scottish Health Technical Memoranda) and HAI-SCRIBE (Healthcare Associated Infection System for Controlling Risk in the Built Environment).
WardSpace features a central core that accommodates a nurses' station, dirty and clean utilities, reception, waiting area, toilets and showers, and any other essential facilities. A choice of open-plan single-sex wards, individual en-suite bedrooms or a suite of consulting rooms, in any combination, can then be added according to project requirements.
"Our aim with WardSpace is to make it even easier for healthcare providers to rapidly expand their facilities at peak times, for example when winter flu viruses cause a sudden increase in unplanned admissions, or to minimise disruption while a new permanent building is under construction," said Portakabin Hire director Robert Snook.
"And we have provided buildings to the tightest deadlines, just days from receiving the order."                             
He added: "Choosing a hire solution also means that a building can be reconfigured or relocated as local needs and priorities change – and, importantly, the approach can generate revenue for the hospital that will help to recover the cost of hiring the building – to the benefit of patient care."
Portakabin WardSpace has already been used for a number of projects at Watford General Hospital and for Kent & Medway NHS Trust.
Got a story? Email news@theconstructionindex.co.uk