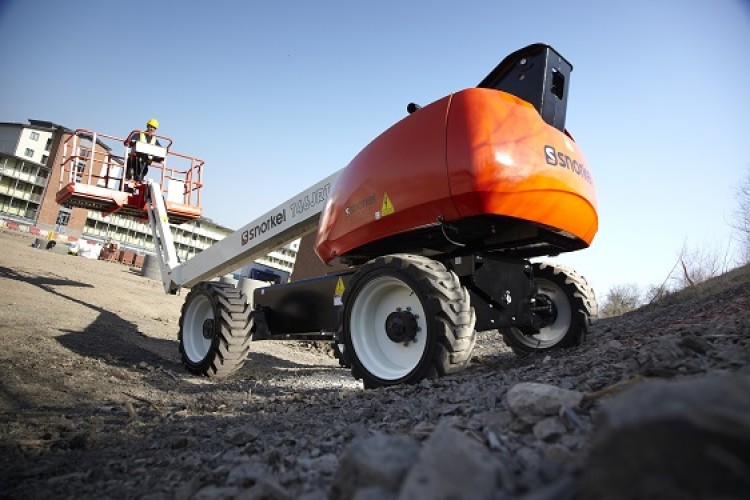 Powered access manufacturers are bouncing back after a horrible recession that saw their 2009 global sales collapse to just 20-25% of their 2007 levels. Demand for mobile elevating work platforms (MEWPs) has returned strongly in the past couple of years, back to about 75% of the peak, but the problem now is meeting that demand after manufacturing capacity was slashed all the way through the supply chain. Order books are now full again but the industry is struggling to catch up.
That is the global picture. At the UK level, while demand is by no means at record levels, hire fleets have started buying again, to keep their fleets up to date and asset values intact. End-user demand remains patchy, however.
Until recently, Richard Tindale was sales and marketing director of platform manufacturer Snorkel. In April he joined distributor Access Platform Sales (APS) as managing director. He therefore has a good overview of the industry. Demand is strongest, he says, for niche machines such as tracked equipment and micro lifts, and electric powered machines for indoor use – in other words, kit that is typically used for facilities management and maintenance work rather than heavy construction. APS's biggest sellers, therefore, are 19ft scissor lifts and smaller push-arounds – the high volume, low cost end of the market.
"We are also doing very well with Hinowa tracked booms and the larger Omme tracked booms," he says.
Omme is a Danish manufacturer that makes high quality 25m to 37m height boom lifts. "Expensive kit," Mr Tindale says, "but there's business for them."
Niche markets
A niche market that has proved particularly fruitful for Hewden in recent months is supplying the company that is responsible for erecting all the signs at the Olympic Village as well as at other event sites and training camps around the country, which involves significant usage of powered access.
Access equipment is also used frequently at Hewden's industrial sites, such as the Shell UK Stanlow refinery in Ellesmere Port, where machines are often on long-term hire, supplied by the Hewden facility located on the site and used for a number of general maintenance and cleaning tasks.
Demand for zero emission MEWPs from end users has prompted access hire specialist AFI to add a further 43 new electric powered machines as part of a £5m investment in its rental fleet – a mix of Genie Z30/20N articulating boom lifts, Haulotte Star 10 mast lifts and Haulotte Compact 14 scissor lifts.
All are lightweight and compact electric models. The Genie Z30/20N has a working height of 11.14m, a width of 1.19m and an up and over clearance of 3.86m, making it ideal for work in warehouses and fit outs in retail premises. The Haulotte Star 10 weighs 2,575kg, has a working height of 10m and a width of 0.99m, enabling it to fit into lifts and be used in areas with weight restrictions. The Haulotte Compact 14 has a working height of 14m and a width of 1.20m, enabling it to pass along racking aisles and be suitable for a wide range of fit out applications.
These purchases help AFI to keep the average age of its fleet of more than 4,500 machines to approximately five years.

Electric lifts
Electric powered lifts also figure strongly in A-Plant's recent orders. A-Plant recently invested several million pounds on a wide range of powered access equipment manufactured by Genie, JLG and Niftylift.
Easi UpLifts has focused its recent purchases on JLG boom lifts and German-made Teupen spiders. The JLG order is mostly for 60ft and 80ft telescopic and articulated booms but includes two units of the 150ft telescopic 1500 SJ, JLG's largest self-propelled boom lift. While Easi UpLifts is an Irish company, the majority of these new machines are going to its UK depots.
The Teupen machines represent continuing development of Easi UpLifts' specialised access division. Deliveries of the Leo 18GT, 23 GT and 36T models began in April.
Recovery of the access sector is perhaps best illustrated by the spending of Nationwide Platforms, the UK's biggest access rental firm, with more than 11,000 machines and 30% of the market. This year sees its first major capital expenditure programme for four years, with £23m being invested in approximately 1700 pieces of equipment. Managing director Mike Potts says that he expects Nationwide to maintain this level of expenditure for the next few years. Primary suppliers are JLG, Genie and Skyjack, with Haulotte and Niftylift also chipping in, along with truck- and van-mount producers.
Mr Potts says that rates are under pressure, particularly from construction customers. There was some success in pushing them up last year, but today they are generally flat. Survival in the access business today necessitates finding markets outside of construction, he says. "We are noticing quite a tough market in construction and managing to keep our head above water by finding work in other sectors, such as FM and utilities," says Mr Potts.
Over the long term, however, construction remains a core customer base and one that Nationwide aims to serve by offering additional products and services to add value, such as its SkySiren anti-entrapment device (see p42), as well as by maintaining a comprehensive fleet that covers the full spectrum of possible applications.
Emerging economies fuel demand
Global demand for powered access peaked in 2007 and around US$2.1bn. Of that, the US accounted for about $1.2bn of that, Europe around $750m, and the rest of the world just $150m, in rough numbers.
By 2009, sales had fallen to just 20-25% of that level.
Recovering began in 2010. This year, manufacturers expect the market to be around $1.6bn, with the US back to around $900m, but Europe recovering only to $300m. However, usage of powered access is starting to develop in the rest of the world – led by Brazil, Australia, Russia and the Middle East. Sales outside of Europe and North America have therefore grown considerably above 2007 numbers, from $150m then, to around $400m this year. 
Got a story? Email news@theconstructionindex.co.uk