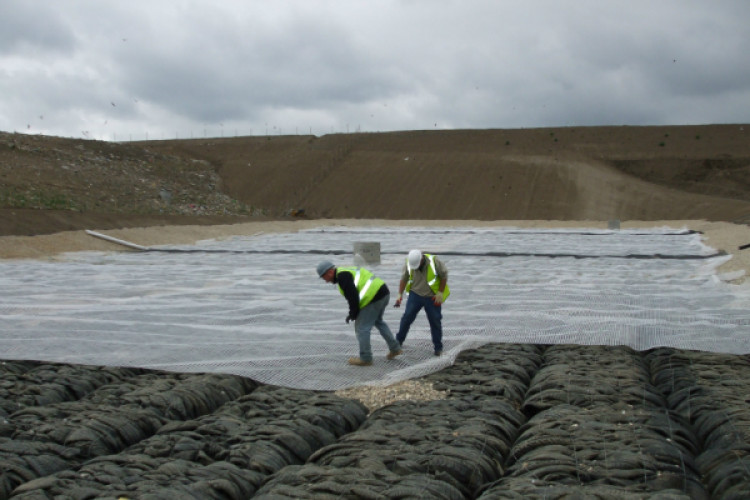 When all ten of the landfill cells are full in approximately 2020, the site will be transformed into an ecological park and breeding area for rare species of birds. To bring the 92-hectare landfill up to the highest environmental standards whilst it remains in operation, Viridor Waste Management appointed one of Kent's leading main contractors, Provian.
Designed by consulting civil engineers Peter Baxter Associates, the works included flood alleviation, creation of wildlife habitats, new cell preparation, capping of full cells and gas infrastructure works to remove gas from the waste, convert it into electricity and also allow the control and monitoring of landfill leachate.
Provian excavated 250,000m3 of soil to be re-used to engineer the site lining instead of geomembrane cell lining with some 60,000m2 of it used to cap the existing cells. Subsequent to this, recycled tyre bales were used for leachate drainage at the base of the new cells as a more environmentally friendly and cost effective solution than the traditional method of using imported gravel.
Full to capacity, the cells have been capped with a 1 metre thick layer of engineered clay to prevent landfill gases from entering the atmosphere whilst minimising rainfall entry into the landfill to reduce leachate production. This is then protected by a 1.5 metre thick layer of further soils to maintain the moisture content and provide farmable soils for future use.

Following the capping works, Provian drilled approximately 80 wells into the waste and through the capping. Measuring approximately 350mm in diameter and up to 40m in depth, installed with a perforated casing and backfilled with gravel before being connected via a series of collector pipes to a ring main. The ring main terminates at the on-site gas to energy plant where the gas is then burned to produce electricity for the National Grid.
As well as the gas infrastructure works, Provian created three interconnected lakes to control the water levels and reduce soil erosion. For this the company excavated 100,000m3 of soil before lining the bases with an engineered clay material. The company also constructed a range of small islands and enclosed areas, using clay and gravel, to provide safer breeding areas for migrating birds. Reed beds and a variable foreshore were also created to attract key bird species, as well as helping to clean the surrounding water.
At the landmark Beddington site, Provian has once again demonstrated the company's unrivalled abilities to meet the challenges of eco-friendly construction and large scale infrastructure projects.
Got a story? Email news@theconstructionindex.co.uk