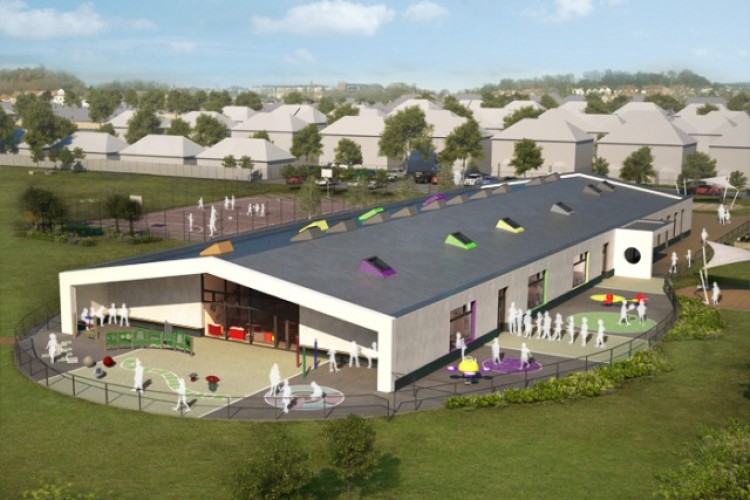 Pupils at Oakfield Primary School in Rugby came back after their half-term break to find the new school building open for classes.
The school is the first to be built in the UK using the new Sunesis standardised system, which uses off-the-shelf designs to reduce costs and construction time.
The new 1,172 sq m building cost £2.2m and was built in just 32 weeks. It caters for 220 pupils and comprises seven classrooms, a hall, catering kitchen, learning street, staffroom and offices.
Sunesis was developed jointly by construction firm Willmott Dixon and local authority controlled procurement company Scape to help local authorities reduce the cost of building new schools. By procuring the pre-designed Sunesis school through Scape, Warwickshire County Council reduced procurement time and fees associated with legal issues, feasibility studies, design and time spent at planning and procurement meetings.
Headteacher Heather Fielding said: "It's brilliant that Oakfield is the first school in the country to benefit from this innovative construction solution."

Built in the 1950s, Oakfield needed to expand as many classes were already using additional temporary accommodation. The original plan was to extend the school at a cost of around £2m, but for an extra £200,000 and by using Sunesis it was able to build a new school.
Scape CEO Mark Robinson said: "This is a real milestone, not just for Oakfield Primary and Warwickshire County Council, but also for the construction and education sectors. In partnership with Willmott Dixon, we're pioneering a new approach to delivering high quality and affordable schools across the UK. We look forward to seeing how the pupils and teachers alike reach their full potential in this fantastic learning environment."
Since Oakfield started on site, Southampton City Council and Isle of Wight Council have also opted for Sunesis schools and more are going through planning.
Got a story? Email news@theconstructionindex.co.uk