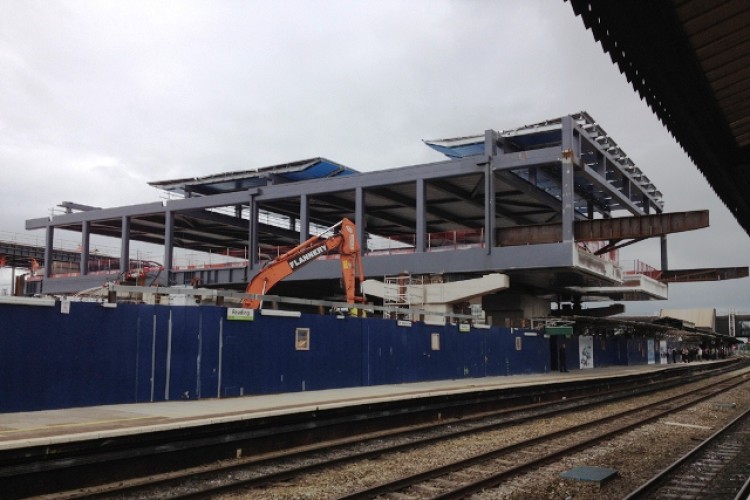 As part of the station's three-year, £80m upgrade, a new 'transfer deck' will replace the existing footbridge across the tracks. The new deck will be much bigger than the old structure and have escalators to platforms.
The 100m deck is being constructed in three sections at a site beside the tracks. The first 50m section was pushed 28m out over the railway over four nights from 5 July. The bridge slide was carried out by bridge jacking specialists Dorman Long Technology.
The second section is due to be built and launched over the railway by the end of August leaving the third section to be erected in situ.
The weight of the first section jacked in July is around 729 tonnes.
Main contractor is Costain Hochtief JV, whose project director Brian Fisher said: "The phases of erecting the deck were being carried out around the Olympic embargo, during which many construction jobs in and around London are suspended in order to minimise disruption during the Games."
The embargo started on 12 July, with the second slide taking place during the gap between the Olympic and Paralympic Games. The final section can then be constructed in the area adjacent to track.
"It's a relatively straightforward, but technically complex operational job," he said.
Work on the station generally is proceeding steadily, with 24-hour working the norm over the past four months to meet the deadline. The new transfer deck is due to open at the end of March 2013.
Got a story? Email news@theconstructionindex.co.uk