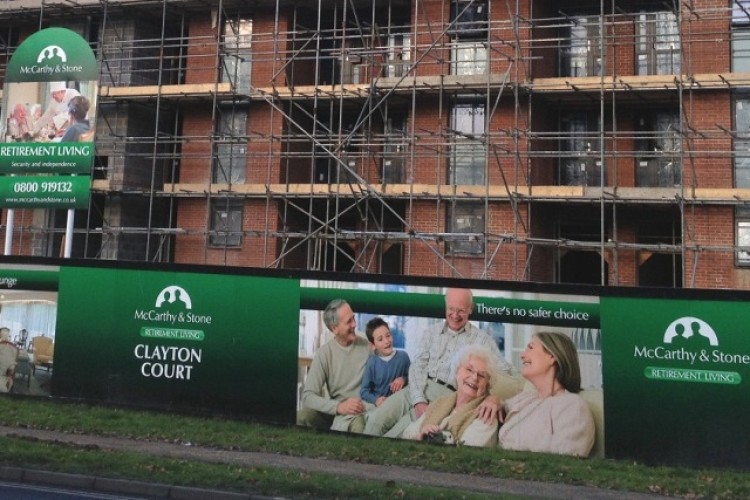 It is a new record for the company since it built its first retirement development in 1977.
Total value of the newly consented developments is £250m.
The latest consents include sites in: Chichester, Walton-on-Thames, Kidlington, Drayton, Letchworth, Wendover, Upminster and Old Stevenage for the company's southeast region; Romsey, Bridgewater and Tetbury in the southwest; and Walsall, Dorridge and Cromer in the Midlands. In the north, new consents include Morecambe, Hexham, Harrogate and Gosforth, and Bishopbriggs, North Berwick and Paisley in Scotland.  For the southeast region, one week saw seven new planning consents alone.
McCarthy & Stone's latest half year results to 28 February 2014 revealed that revenue was up 49% to £149.7m (2013: £100.4m), EBITDA up 106% to £21.6m (2013: £10.5m), forward sales up to £131.3m (2013: £73.2m).  The company has also increased its pipeline to c 8,500 plots, owned and under its control, with a projected sales value of £2bn.

Executive land and planning director Gary Day said:  "We're very pleased in the growth and speed of recent planning consents which puts us in a very strong position to increase volumes and margins to drive the value of the business.  We already have all the planning consents in place to deliver sales in the next financial year through to 31 August 2015, but our ambitious growth plans mean that we have a consistent demand for new land in urban areas.
"The growing momentum in planning consents is demonstrating that our developments are becoming more popular with planning authorities as they acknowledge the growing need for housing for our ageing population.  Planners are also now increasingly recognising that our schemes provide a knock-on benefit of freeing up existing, frequently under-occupied local housing stock.
"However, while the NPPF (National Planning Policy Framework) appears to be helping local authorities to improve the delivery of planning consents, there is still a great shortage of this type of housing and more work needs to be done – especially in light of the new planning guidance adopted by the Department for Communities & Local Government (DCLG) in March 2014, which stated that the delivery of new housing for older people has now become a 'critical' issue for local communities."
Got a story? Email news@theconstructionindex.co.uk