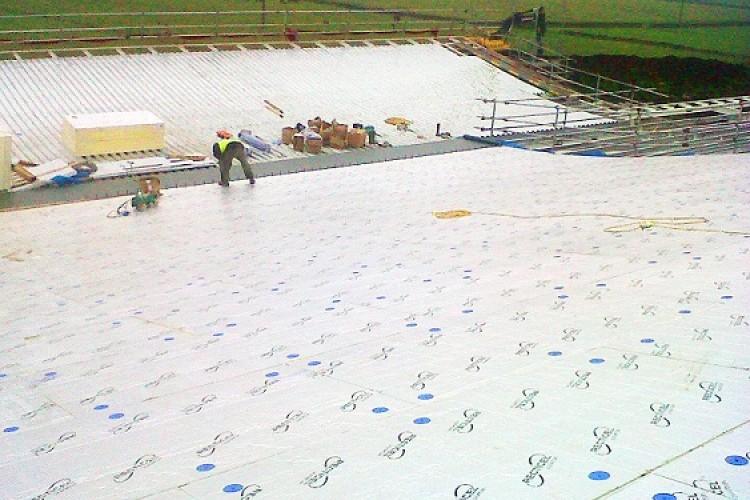 The Recticel Eurothane Eurodeck boards were specified for the new High Peak water bottling plant by SIG Design & Technology. The decision was made on the basis of the boards' outstanding thermal performance characteristics, and Recticel's ability to engineer the boards to suit the unusual roof profile. 
The elegant roof form features a series of four barrel-vaulted sections, connected by central gutters, to create a 'rolling wave' effect. The roof construction comprises a metal deck with vapour control layer, topped by the Recticel insulation boards and an Armourplan Premium PVC single-ply membrane. At the request of the local planners, the latter features a 'special order' green finish which helps blend the roof with its rural surroundings.
"Recticel provided great support on this project," explains SIG Trading Director, Mike Crook.  "The insulation boards needed to follow the sweeping curves of the roof, and Recticel was able to engineer the 140mm-thick Eurothane Eurodeck boards so that they would do this, effectively creating a bespoke insulation solution for this building."

"We're delighted to provide this type of project support for our customers," adds Recticel's Commercial Director, Chris Hall. "Insulation requirements continue to become more sophisticated, as the demands imposed by things like Building Regulation become ever stricter. Working with partners such as SIG Design and Technology means that we can help customers realize their projects and still meet those requirements, and this project is a good example of that process in action."
The high performance Eurothane Eurodeck board is designed for use in warm, flat roofs, under mechanically fixed single-ply membrane waterproofing systems. Its closed-cell, rigid polyisocyanurate foam core is faced on both sides with a multi-layer coated aluminum foil. This allows it to deliver an exceptionally low thermal conductivity of 0.022 W/mK - some 30% more efficient than many other insulation materials. It is available in a wide range of thicknesses, which can help reduce the quantity of insulation required whilst still ensuring compliance with Building Regulations, BREEAM and Code for Sustainable Homes standards.
Rot-proof, durable and maintenance-free the Eurothane Eurodeck boards are lightweight, easy to handle and can be cut using a knife or fine-toothed saw. Fully compatible with most synthetic and bitumen-based single-ply membrane waterproofing systems, they also eliminate the need for roof ventilation and so make the roof inherently safe from harmful interstitial condensation. 
Got a story? Email news@theconstructionindex.co.uk