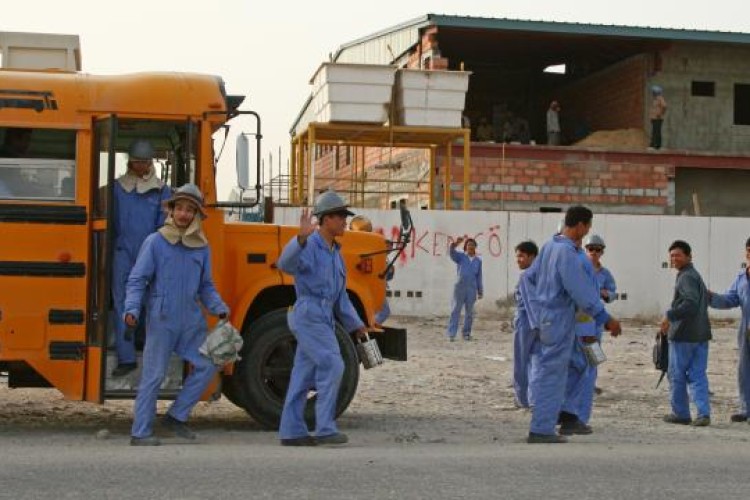 Companies operating there are failing to protect workers from abusive working arrangements and there is lack of transparency on safeguards that they do have in place, says Business & Human Rights Resource Centre.
The study found some exceptions, with companies including Laing O' Rourke, Multiplex, Salini Impregilo, SNC-Lavalin, Vinci, Interserve and Carillion praised for practices that serve as examples for others to follow.
The Centre, which is dedicated to advancing human rights in business and eradicating abuse, surveyed 100 construction companies operating in the UAE and Qatar but just 22 responded – a figure that it says indicates a shocking level of inaction. Eight UK-based companies with projects there were contacted for the survey and only four responded - Atkins, Carillion, Interserve and Laing O'Rourke.
Of the 100 companies, just 39% have publically available human rights commitments, it found.
Wall of silence: Construction industry failing to tackle abuse of migrant workers in the Gulf is published today along with a searchable online database in English and Arabic (link opens in new tab).
Business & Human Rights Resource Centre deputy director Annabel Short said: "Global inequality is on display in the construction of multi-million dollar high-rises and stadiums by migrant workers who find themselves trapped in debt and sometimes unpaid for their labour. As the employer of 7% of the world's workforce, it is time that the construction industry ups its game."
A few companies reported important steps in areas such as recruitment, worker voice and subcontracting, providing examples that others can follow. Laing O' Rourke, Multiplex, Salini Impregilo, SNC-Lavalin and Vinci reported a policy of reimbursing fees to workers if they have been charged during the recruitment process. Another six companies stated that they would terminate their business relationships with recruiting agencies that are found to charge fees.
Interserve (UK) said that it requires subcontractors and suppliers to prequalify based on their employee welfare practices and that their compliance is subsequently monitored through audits and worker interviews.

Carillion, Laing O'Rourke and Salini Impregilo pointed to a global policy on freedom of association and providing workers in their Gulf operations with alternative means of expression and collective organising through worker welfare committees.
Companies for inclusion in the survey were selected based on two criteria:
those awarded contracts in Qatar and the UAE between 2014 and 2016 valued at least US$50m
companies involved in the infrastructure for the 2022 World Cup, Expo 2020 Dubai and other mega-projects.
In cases where the construction was awarded to joint ventures or consortia we contacted all companies involved.
Despite increasing public pressure, companies involved in the construction of the World Cup stadiums failed to respond to the outreach, says the Centre. They had the opportunity to  demonstrate their adherence to the Workers' Welfare Standards of the Qatar Supreme Committee for Delivery & Legacy, it says - the appalling treatment of migrant workers in the region has been widely publicised, so no company has an excuse for inaction.
Companies must embed effective human rights due diligence in their operations and publically report on their progress, stresses the report. Urgent action is required to ameliorate the risks associated with recruitment, contracts, payment, health & safety, living conditions, freedom of movement and subcontracting. Companies need to guarantee meaningful worker participation and effective grievance mechanisms to curtail abuses, and come together with industry players and civil society to form a strong sector-wide response.
Mariam Bhacker, project manager at Business & Human Rights Resource Centre said: "The regional variation in company responses demonstrates an urgent need to strengthen the competitive advantage for construction firms to uphold the rights of migrant workers. Mandatory transparency legislation in the UK introduced through the Modern Slavery Act and independent scrutiny from media and civil society have provided impetus for some companies to act, but more needs to be done. Governments, clients and investors must reward firms that take a responsible and transparent approach to their employment and recruitment practices."
Wall of silence: Construction industry failing to tackle abuse of migrant workers in the Gulf is available from  https://business-humanrights.org
Got a story? Email news@theconstructionindex.co.uk