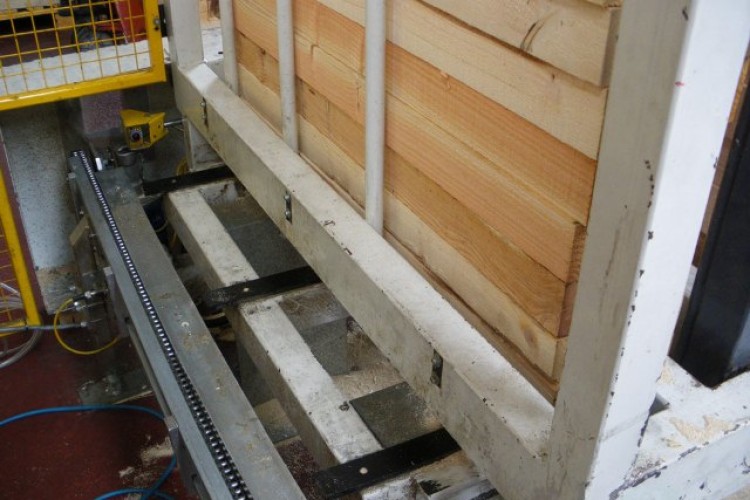 Darren Gillard, 46, from Splott, was employed by Euro Clad Ltd to make metal roof panels at the company's Wentloog factory.
On 19 April 2010 he was operating a machine that positions wooden blocks beneath packs of roof panels on the production line when some of the blocks became jammed in the machinery. Walking into the enclosure with the machine still in 'automatic' mode, he reached under the machine to reach the jammed bearers and free them.
However, once the blockage was removed, the machinery started up again and crushed his wrist between the bearer and the base frame.
Mr Gillard was taken to hospital where he underwent three operations to insert a metal plate into his wrist, and skin graft treatment to serious skin abrasions sustained in the incident. He was only able to return to work four months later.
Cardiff Crown Court heard that he was able to gain access to the production line through a defective interlocked gate in the two-metre high perimeter fence that surrounded it. An investigation by the Health and Safety Executive revealed the gate had been interfered with and tied open.

This was deemed to be common practice due to a high number of jams that occurred, with workers regularly passing the gate without correctly stopping and isolating the machine.
HSE prosecuted Euro Clad Ltd, of Wentloog Corporate Park, Wentloog, for failing to take effective measures to prevent access to dangerous parts of machinery, and for not checking the guards or interlocks were in place at the time.
The company had previously pleaded guilty to breaching Regulation 11(3) of the Provision and Use of Work Equipment. It was fined £20,000 and ordered to pay costs of £6,000.
Speaking after the hearing, HSE inspector Paul Cartwright said: "This was a very serious injury and one that has had a significant impact on Mr Gillard. The case demonstrates the importance of ensuring that machinery guards and protective systems remain effective. Employers need to regularly monitor practices and rectify any problems promptly. HSE will not hesitate to take action where employers fail to ensure that protective measures are in place.
"In this case, there was no such monitoring, and a dangerous system was allowed to exist for some time before it was highlighted by a serious and wholly avoidable incident."
Got a story? Email news@theconstructionindex.co.uk