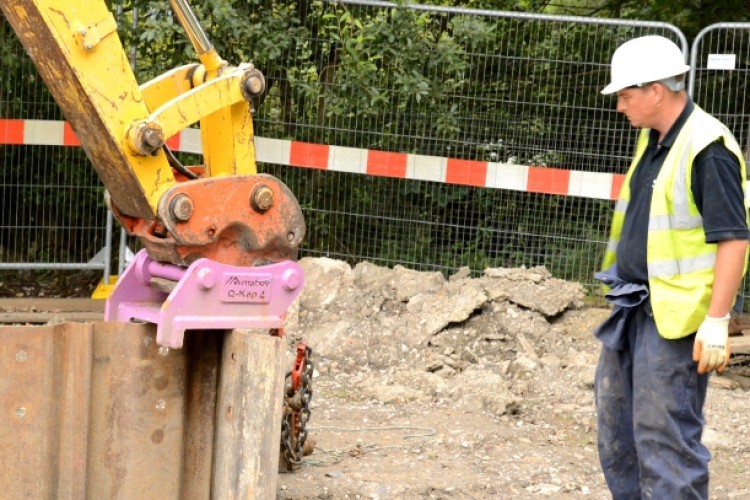 Q-Kap was developed by Kitchin Plant Hire. The second product, a trench sheet extractor with safety chain, was developed by Mabey in conjunction with Black & Veatch.
Q-Kap is a universal trench sheet driving tool that fits directly to the quick hitch of an excavator. Designed by owner/operator Ollie Kitchin of Kitchin Plant Hire, trials of the product were completed by civil engineering company JN Bentley during a project at Yorkshire Water sites. The trials resulted in Q-Kap being nominated for a Yorkshire Water TAP safety award by the JN Bentley team.
Mabey says that Q-Kap eliminates the need for working at height to position a traditional drive cap. It also means no time is lost when moving a drive cap from sheet to sheet. Also, it can easily move up and down a line of sheets and cover two sheets at one time to align the tops and simplify the installation of edge protection.
Mabey Hire has secured exclusive distribution rights for an initial 12 months, with the potential to extend to three years.
Ollie Kitchin said: "The issues of health and safety onsite are rightly becoming more of a focus in the construction industry. From my own experiences I identified a solution to an important issue and knew I wanted to work with the team at Mabey Hire to bring this and its related benefits to the industry.
"Q-Kap has clearly demonstrated that it is a product which addresses the needs of today's construction industry. It offers significant benefits with regard to health and safety and the productivity of staff. With an award nomination already under its belt from trials, I predict further accolades in the near future."

The seven-tonne trench sheet extractor with safety chain (pictured below) is a regular extractor that is fitted with a secondary safety device independent to the main attachment point. This ensures that the risks associated with incorrect attachment or damage to the wing screw will not result in the trench sheet becoming detached from the extractor.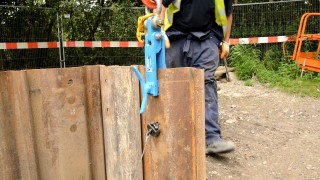 Mabey Hire managing director Mark Rooney said: "Working with our customers and constantly learning from the on-site use of equipment ensures we can be innovative, respond to demands and bring new valuable products to the market.
"The launch of these two new products will be supported by open days for health and safety representatives where we will be able to demonstrate the benefits their teams will reap by utilising these new additions to our fleet."
Mabey Hire has seen its turnover increase from £28.6m to £34.8m in the last 12 months and added 66 new staff, growing its workforce to almost 400 across its 18 depots.
Got a story? Email news@theconstructionindex.co.uk