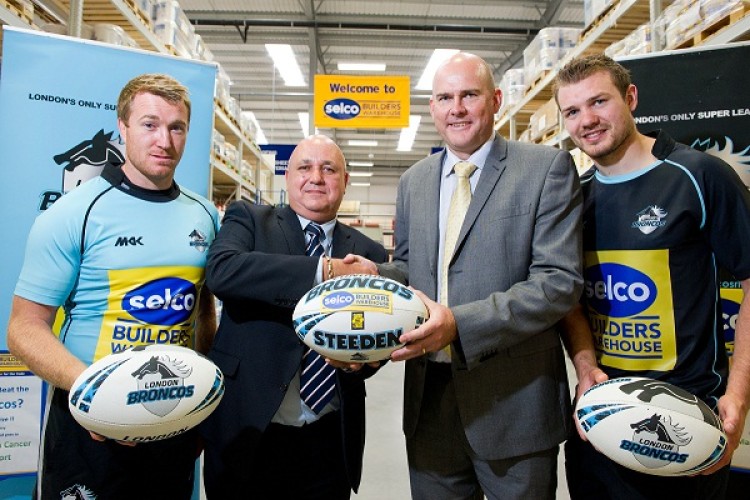 Selco made the announcement yesterday at the opening of their new Hanworth branch on the Feltham Trading Estate in Hanworth, Middlesex, which is their fifteenth branch in London.
Four players from the Broncos attended the branch opening and took part in charity events to help raise money for Selco's partner charity, Macmillan Cancer Care. The players were showing their skills by throwing a rugby ball into a cement mixer and encouraged staff and customers to take part too.
Chief Executive of the London Broncos, Gus Mackay, said: "We are delighted to have entered into a partnership for the remainder of the 2012 season with Selco who are a well-established company with branches across England and Wales.
"This provides both brands with the opportunity to meet their objectives of increasing awareness across the UK. We are grateful that Selco have chosen us and we will be doing all we can to ensure that this becomes a long term partnership in the years ahead."

Chris Cunliffe, Managing Director of Selco, said: "We at Selco are pleased to join forces with the London Broncos and see this as a great opportunity to raise brand awareness not only in London but also in the northern region where rugby league is well established. 
"The London Broncos are London's only Super League team, who are seeking to increase the awareness of Rugby League in the South. As Selco have a strong brand in the south we believe there are synergies in working together and promoting each other."
The London Broncos Rugby team play at The Stoop in Twickenham, just a mile away from the new Hanworth branch, where they will play four more home games and three away games before the end of the season.
Selco are a leading builder's merchant's warehouse with branches throughout England and Wales including Yorkshire, Manchester, East Midlands, Birmingham, Cardiff, Swansea, the South West, Berkshire and London.
Got a story? Email news@theconstructionindex.co.uk