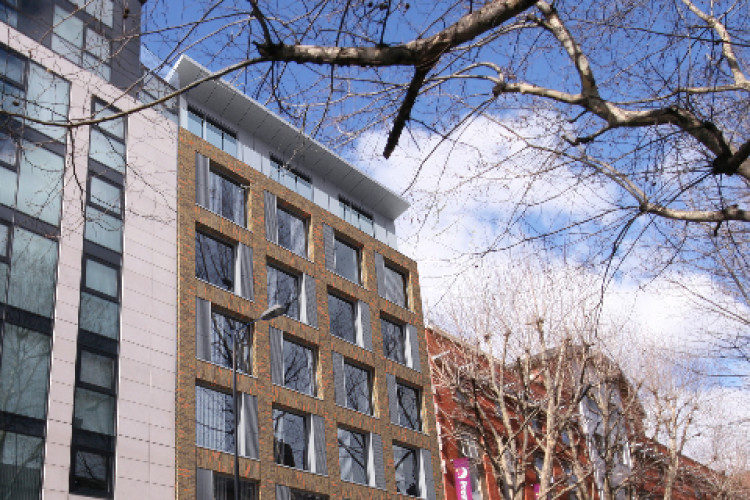 To create a thermally efficient building envelope, Membran, a versatile joint sealing system from global building product manufacturer, Sika, was specified.
Designed by architects Weston Williamson, the apart-hotel is a modern cross between a hotel and an apartment and designed for extended stays of up to 3 months. Located on the busy Tower Bridge Road, the new building sits on the site of an old antiques warehouse and incorporates the change of use of an adjacent vacant office building.
To provide an air and weathertight seal around the 120 plus windows of the new building, specialist contractor G&A Systems recommended the use of Sika Universal Membran. A versatile EPDM synthetic rubber waterproofing membrane, it has been designed to provide an efficient method of sealing construction gaps in building façades. Thin and easy to use on site, the system offers long term performance and used in conjunction with Sika's TF adhesive, it offers an ultra-strong bond to create an airtight seal. Solvent free, durable, UV and ozone resistant and 100% waterproof, it can be bonded to most building substrates. Being highly elastic, it can be used on uneven substrates, making it suitable for the most demanding project.
Easily cut to size, Membran helps prevent the loss of heated or cooled air from within the building, minimising wasted energy. With acoustic windows and glass being installed by G&A Systems, the system has also aided in the acoustic performance of the building by helping to minimise any noise from the main road.
Sika Universal Membran regulates and controls the amount of moisture escaping from the inside of a building thus minimising the risk of interstitial condensation.

Manufactured in 25m x 0.6mm rolls and available in varying widths from 100mm to 1,400mm, Sika Membran is flexible and easy to use. Once on site, G&A Systems simply cut it to the required size and cleaned the concrete to which it was to be bonded. Sika's advanced elastic adhesive, Sikabond TF Plus N was then applied to the concrete surface and the Sika Membran positioned accordingly.
A single part polyurethane based elastic adhesive, Sikabond TF Plus N has been specifically created for the bonding of Sika Membran to a variety of building substrates. Solvent free, it offers long open times to allow for adjustment of the membrane. Also able to tolerate uneven surfaces to create a continuous seal, it eliminates the need for mechanical fixings and provides an easy yet trustworthy method of fixing the joint sealing membrane in place.
With the Sika Membran system in place, G&A Systems installed the building's numerous windows ensuring a perfect seal around each one to create a sustainable building envelope.
Due for completion in 2011, guests at the 137 unit apart-hotel will be able to check in to a fully fitted apartment whilst having full use of usual hotel services such as a concierge desk and regular room servicing. And, thanks to Sika Membran, they are guaranteed a good night's sleep whilst the owners are ensured lower energy costs.
Got a story? Email news@theconstructionindex.co.uk