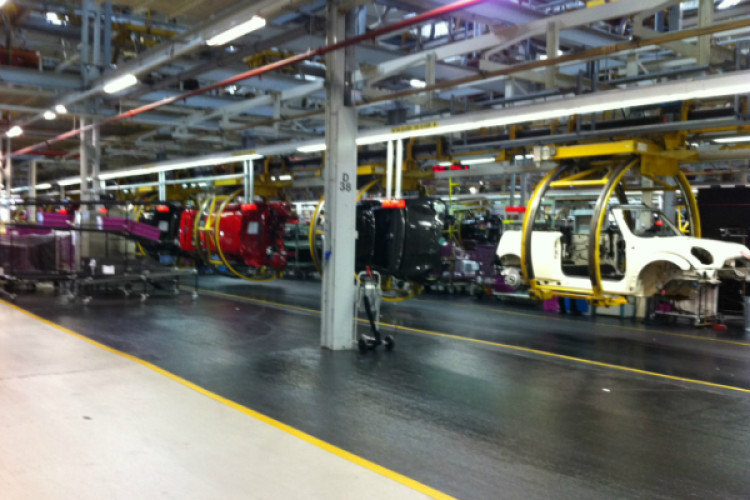 This has created the challenge for car manufacturers as to how to minimise electro-static build up and discharge most often caused by floor coverings on a busy production line.
Faced with this problem, MINI Plant Oxford turned to global manufacturer of construction products, Sika, for an anti-static flooring solution.
Plant Oxford needed a conductive floor system in its assembly hall so called upon the assistance of Sika who provided its Sikafloor® 262 AS Thixo, a 2-part electrostatically conductive textured epoxy coating.  With good chemical and mechanical resistance, this slip resistant flooring system is designed to deliver the ultimate in static control and has an excellent reputation in industries where there is sensitive electronic equipment.
Sikafloor® 262 AS Thixo is a decorative and protective anti-static coating which is available in an unlimited choice of colour shades.  The unique high build system comprises a Sikafloor® 161 primer, Sikafloor® Earthing Kit, Sikafloor® 220 W conductive coat and Sikafloor® 262 AS Thixo wearing course.  It is suitable as a wearing course in industries such as automotive, electronic and pharmaceutical manufacturing.


Specialist flooring contractor Zircon applied 13,500 m² of Sikafloor® 262AS Thixo in a chosen colour of black. In order to provide minimum disruption to the manufacturing process on the assembly lines, this unique textured coating was installed in four separate phases. After first shot blasting the floor to remove any dust or loose material, Zircon applied Sikafloor® 161 primer by roller and brush. This was followed by the installation of the Sikafloor® Earthing Kit, a conductor system which comprises copper tapes and earthing points and then the roller and brush application of the Sikafloor® 220W Conductive primer. The final stage is the Sikafloor® 262AS Thixo which was applied using squeegee and then back rolled with an open cell roller to leave a textured finish.
The assembly hall at Plant Oxford now benefits from a thermostatically conductive flooring system which will ensure that the manufacturing facility is always on track to meet its target.
Sika offers a comprehensive range of flooring and coating products, designed for a variety of different applications and building or structure types. These solutions are backed up by a highly experienced technical team, who offer expert specification advice and support.
Got a story? Email news@theconstructionindex.co.uk