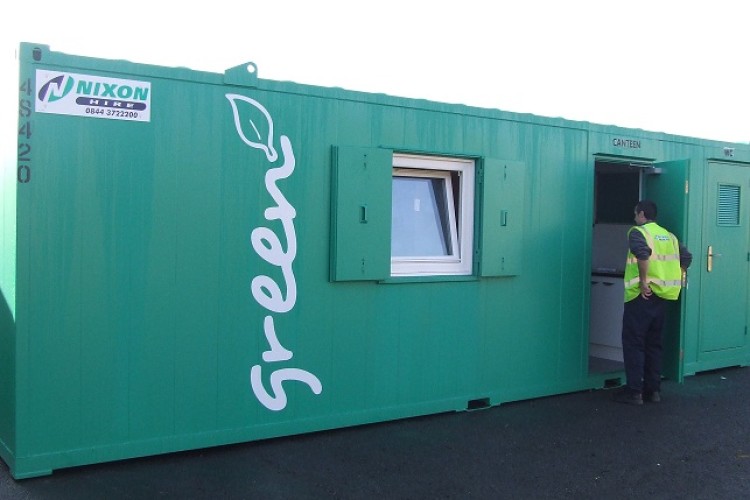 Interior comfort is also high on Nixon Hire's list of advanced specification, with instant heat generation from a Webasto AirTop diesel powered heating system and thermostatically controlled boiler for continuous hot water, plus double insulation and auto door closers to prevent heat loss.
The cabin is not only a comfortable place for up to12 crew to eat and relax, it's also extremely cheap to run and very environmentally friendly – water usage is halved thanks to the roof being designed to harvest rainwater for toilet flushing, while energy is provided by a bank of batteries. When these drop below a pre-set charge point a "brain" in the cabin automatically activates an onboard generator.
This means that compared to a 40 hour week's usage against a standard welfare cabin with a 10KVA generator the Eco cabin really scores: A standard cabin's generator will consume around £80 (100litres) of fuel per week, compared to £12 (15 litres) with the Eco cabin. Co2 output cuts are just as dramatic, as the saving of 85 litres of diesel equates to a drop in emissions of 229Kg per week.

Alex Watson, Nixon Hire's Business Development Manager is confident the Eco Welfare cabin incorporates the most desirable features yet offered to the market and said:
"We've carried out a great many tests to ensure the new cabin is silent in operation yet provides the widest and most comfortable range of interior facilities. Its low energy needs mean that it's kind on both the customer's pocket and the environment – and "quietly" represents a real leap forward in overall welfare cabin standards."
Founded in 1967 Nixon Hire is a family run business with 15 depots around the country, with the Head Office in Newcastle upon Tyne, which has grown to become one of the leading providers of plant and site equipment in the UK, for both hire and sale. 
Got a story? Email news@theconstructionindex.co.uk