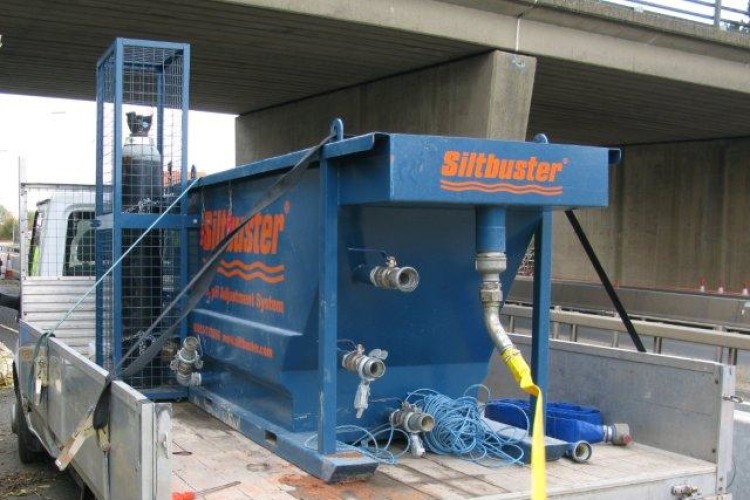 The Siltbuster HD integrated unit was developed in response to requests from hydro-demolition contractors such as Sabre Jetting.
Sabre Jetting operations manager Dan Pampols said: "We regularly hire Siltbuster's larger units, and really rate them.  However, a lot of hydro-demolition work is on roads and bridges, where we're removing concrete for repair.  We told Siltbuster that in an ideal world we'd have a smaller and nimbler unit for these projects – a system we could easily move."
The compact Siltbuster HD unit can be used on roadworks or for hydro-demolition projects with limited access, such as multi-storey car parks.  It can work at ground level or be operated direct from a road-going trailer or works van.  This means it can be moved around once on site and removed at the end of each shift.
The HD unit can continuously operate at flow rates of up to 5m3/hr.  It can either be powered from an external 110V power source, or by its own internal battery.

Sabre Jetting has bought two HD units and is using one on a project to remove concrete as part of bridge repair works on the A47/A15 Paston interchange near Peterborough.
 "The contract involves around 17 visits repeatedly moving back and forth between the bridge's piers," says Mr Pampols. "Without the HD we would lose around half a day every time we wanted to move from one part of the job to another.  Whereas now, every time the guys need to move the unit, they can, almost instantly.  It's incredibly mobile. We put it on the back of a transit and move it from pier to pier.  I'd estimate its nimbleness means the Siltbuster HD is saving us five to 10 days on this one job."
With the work on the bridge resulting in lane closures and a 50mph speed restriction on the A15 underneath the bridge, the time saving also reduces traffic disruption.
Got a story? Email news@theconstructionindex.co.uk