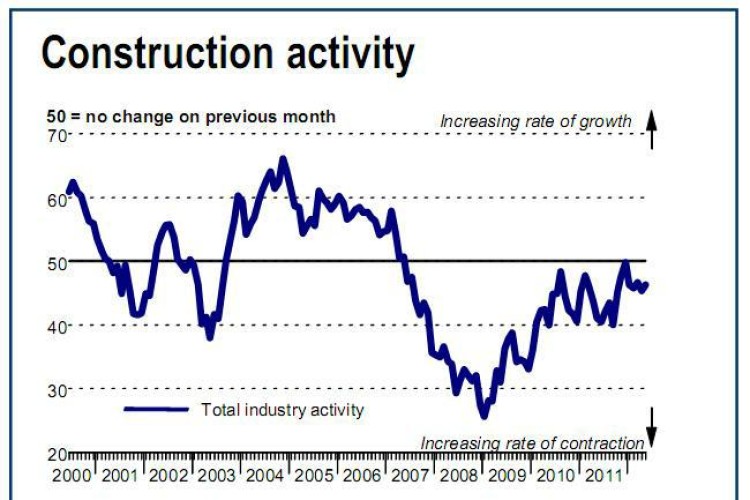 New orders decreased at a solid rate during the month, according to the  Ulster Bank Construction Purchasing Managers' Index (PMI).
Falling workloads led to a further reduction in staffing levels and firms cut their purchases at an accelerated pace.
The seasonally adjusted index is designed to track changes in total construction activity. The value for May was 46.3. Values below 50 signify a fall.
May's figure represented a slower reduction than April's 45.4, the pace of reduction was still solid, said Simon Barry, the chief economist Republic of Ireland at Ulster Bank. "The latest reading of the Ulster Bank Construction PMI shows that construction activity registered a further decline in May, meaning that the slump in the sector has now extended to a full five years. The pace of decline eased slightly last month, but at 46.3 the PMI remains well below the expansion-contraction threshold of 50. All three principal sub-sectors continue to experience contraction, with housing activity recording the sharpest pace of retrenchment for the second consecutive month. There was some easing in the rate of decline in civil engineering, where activity fell at its slowest pace in over four years. However, this sub-sector remains very much in contraction mode as does commercial activity where the pace of contraction accelerated to its fastest pace since last October.
"The wider construction sector remains bedevilled by a scarcity of new business and this was again a feature of the May survey results, with signs of stabilisation around the turn of the year giving way to renewed weakness in recent months. Order levels for new work fell for the fifth consecutive month, and the rate of decline picked up to its fastest pace in three months. In turn, the shortage of new business remains a negative influence on employment trends in the sector. Last week's quarterly national household survey showed a 3,700 quarterly fall in construction employment in the first quarter: the more timely results from the April and May PMI surveys point to further job losses in the second quarter."
The fastest reduction was seen in residential activity. Activity on housing projects fell more quickly than the other two monitored sectors in May, as had been the case in April. The weakest reduction was seen in commercial activity, while the rate of contraction in activity on civil engineering projects continued to slow from the eight-month record seen in February.

There were further reductions in new orders. Those panellists that recorded a decline in overall construction activity during the month mainly linked this to falling new business.
New orders at Irish constructors decreased for the fifth successive month. Where firms were able to secure new business, they reported that this was often dependent on prices being reduced.
Employment continues to fall, with declining workloads impacting negatively on both employment and purchasing activity. Staffing levels decreased for the sixty-first consecutive month, with the rate of job cuts unchanged from that registered in April. Input buying, meanwhile, fell at a marked and accelerated pace during the month. The reduction in purchasing activity was the fastest since September 2011.
Delivery times have lengthened at a sharper pace. Low stock levels at suppliers were behind a deterioration in vendor performance during May. Lead times have lengthened in each month since July 2011, and the latest deterioration was the strongest in six months.
Input prices continued to rise in May, extending the current sequence of inflation to 25 months. The latest increase in input costs was slightly faster than that seen in April. Where input prices rose, this was mainly linked to higher costs for fuel and other oil-related products.
However, sentiment improved in May. Irish construction businesses remained optimistic that activity will be higher in 12 months' time than current levels, with sentiment improving from that registered in April. That said, positive expectations largely reflected the fact that a rise in activity is likely given the low levels currently being recorded.
Got a story? Email news@theconstructionindex.co.uk