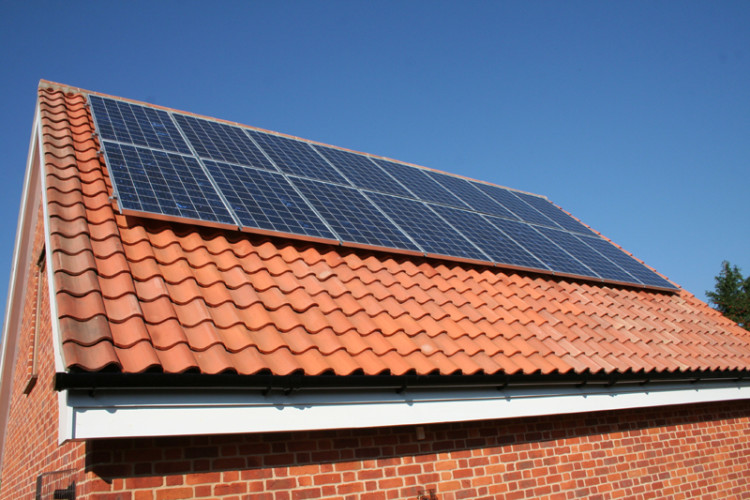 Having spent 6 years living in Bermuda, Mr & Mrs Julian Cusack made the decision to return to live in a property of their own design which would satisfy their requirements for style and substance. An insurance professional, Mr Cusack has a self-professed interest in the modern technologies involved in renewable energies systems that SEH Commercial provides.
The stunning property – Paget House in Middleton, just outside Saxmundham - is discretely tucked away in a quiet rural location set back from the road. The site which was previously owned by neighbour was acquired by a developer some years ago and Mr Cusack purchased it with planning permission to build his own property. With the design from his architect complete, Mr Cusack contracted SEH French, the sister company of Ipswich-based SEH Commercial, to complete the build.
SEH Commercial, specialists in bespoke renewable energy projects was employed to install a Ground-Source Heat Pump (GSHP) and a Photovoltaic System.  Simon Fowler from SEH Commercial explains some of the technology used:

"We installed the 14kW Dimplex GSHP using 3 bore-holes due to lack of space with each bore-hole 100m deep.  The GSHP is the perfect solution for connecting to the property's under-floor heating system due to its lower temperature and greater surface area to dissipate the heat. The GSHP should save around 750kg of Carbon per annum."
With three reception rooms and 5 bedrooms, the property is a substantial pile in a picturesque area. The double garage adjacent to the main house is the site for the 3.6kWp photovoltaic system which uses Mitsubishi 225Wp modules and is connected to the grid via a Fronius IG TL 3.0 inverter housed in a purpose-built plant room included in the design.
Simon Fowler: "The PV system should generate an estimated 2487kWh per annum (based on independent software) or 2460kWh per annum based on Governments Standard Assessment Procedure (SAPs). The Cusack's will be eligible for a FiT rate of 37.8p; this will give them an estimated £930 per annum from the FiT, £37 from the export tariff and £207 savings on their electricity bill per annum, giving an annual benefit of £1173. Taking inflation into account the Cusacks should see a benefit of £44,880 over the 25-years of the FiT.  On top of this, they will also save approximately 1058kg of Carbon per year from the PV system."
Got a story? Email news@theconstructionindex.co.uk