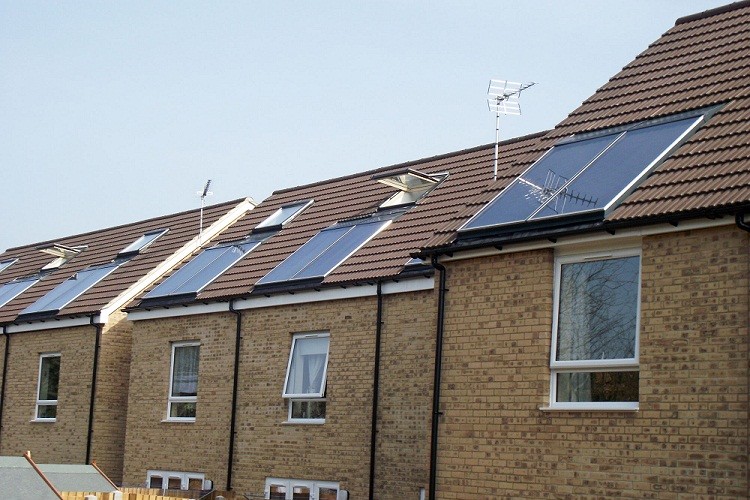 The development, a design and build project by Jarvis Contracting for South Anglia Housing, is a combination of two and three storey houses in a mixed tenure scheme of rental and shared ownership. 
Jarvis contracts manager Gideon Saph said, "The emphasis on this project was to provide energy efficient homes for the occupiers.  The inclusion of a solar panel solution was a requirement of the design package in order to achieve a Code 3 status."
Each house incorporates two Oventrop OKF CK 22 Solar flat plate collectors of 2.02m² which are integrated into the roof. The anti-reflective glass will increase transmission by an additional 5% over regular glass. Roof integration also provides additional cost savings for the builder in terms of roof tiling and associated labours costs whilst offering a more aesthetically pleasing solution.

Each system also comprises a 250L twin coil solar cylinder at ground level and stainless steel pre insulated pipework. The sizing of the pump and modelling of the system hydronics was crucial on this project because there was a very long pipe run from the collectors on the roof to the cylinder. Oventrop therefore provided their OV Sol hydronic planning service which included a systematic drawing, full system settings showing flow rates, pressures, pipe sizes, expansion sizes etc; to ensure that the package was fit for purpose.
For occupier ease, each solution is automatically controlled by a Regtronic control package which includes a wall mounted display attachments with pre-installed switching schemes so there is no input required by the home dweller.
The system was installed by Burgate Plumbing & Heating, whose director, Jim Pooley,  said, "The Oventrop solution was chosen because it was easy to install and provided a quality product at a competitive price."
Got a story? Email news@theconstructionindex.co.uk