Demolishing the Upper Harbour Ammunitioning Facility (UHAF) Dolphin cranes required demolition works to be undertaken both above and below the waterline and all the equipment was mounted onto a large barge, anchored and positioned for the work to be carried out.
HDI brought in its Hitachi EX1200 excavator, which has been rebuilt by Kocurek of Ipswich to HDI's specifications. This has increased its operating weight from 120t to 200t and means that it can now carry heavier hydraulic attachments.
For the Portsmouth job, two Mantovanibenne attachments have been provided by UK importer Inmalo: a CR100 hydraulic crusher for demolishing the Dolphin foundations above and below the water; and an SH900 hydraulic steel-cutting shear for dismantling and shearing the steel structures of the old cranes into manageable sections for recycling.
The CR100 is an 11t twin-ram crusher. The SH900 is a 10t shear.
"Both attachments have proved their worth on this contract and the CR100 in particular is an amazing piece of kit with its 2 metres jaw opening and awesome crushing power," said HDI director Hardy Worsey.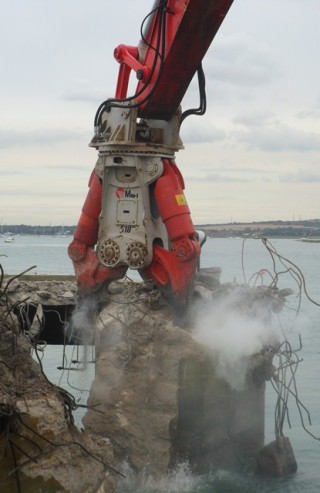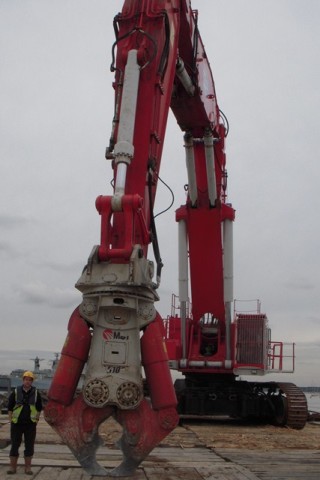 Got a story? Email news@theconstructionindex.co.uk