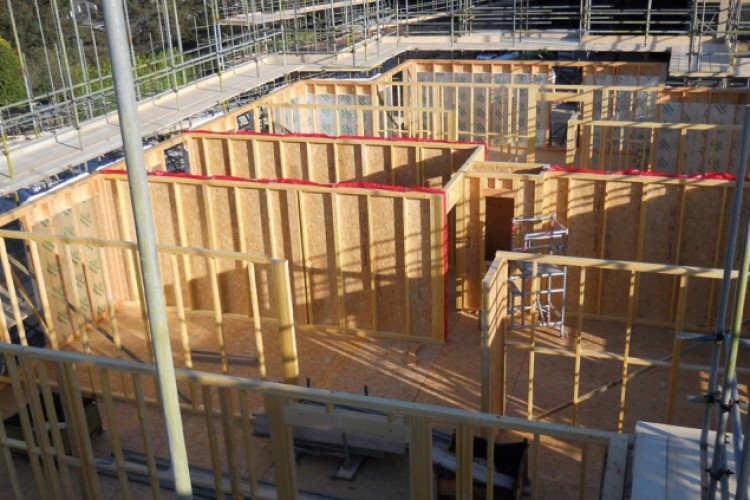 Plymouth University appointed to BAM Construction to build its new student accommodation development in Truro with two challenging targets: a BREEAM rating of Excellent, and a programme of just nine months.
The bespoke £8.5 million scheme will serve both student and medical staff 'on-campus' at the Royal Cornwall Hospital Trust.
The 232-bed development comprises seven blocks of four storey units, arranged as a series of self contained four and five bedroom flats, which feature modern facilities.
Designed by Burwell Deakins, the blocks are arranged informally around a central landscaped area, with materials such as timber frame, Siberian Larch rain screen cladding and a low pitched standing seam zinc roof selected to complement the woodland surroundings and to create an entity distinct from that of the hospital.
For the timber build system, Stewart Milne Timber Systems was selected to work with BAM.
Dave Roper, project manager for BAM, explains: "One of the key factors in Stewart Milne Timber Systems being selected to provide the timber system solution was that they had experience of working on large scale projects to meet BREEAM Excellent rating. They also provided cost benefits through their 'one stop shop' concept."
Stewart Milne opted for a 'fabric first' approach to meet the required U values on the project. It used a semi closed pre-insulated panel system to achieve an external wall U-value of 0.21.
Alex Goodfellow, group managing director at Stewart Milne Timber Systems, says: "Along with the environmental credentials inherent when building with this natural material, timber frame also makes it easy to achieve a high performance building fabric by maximising thermal performance and minimising air leakage.
"This 'fabric first' approach is a low risk, cost-effective way to achieve higher levels of BREEAM."
"Timber frame projects was relatively new to this division of BAM," Goodfellow adds, "so partnership was crucial. We engaged with the design team from the outset and we were in continuous dialogue with BAM to ensure a final design in line with the overall programme timetable."
Speed of build was a vital aspect of the project. Besides the pre-insulated panels, other offsite-constructed elements which reduced build time included a pre-fabricated cassette floor, an acoustic floor system, and the stairs for the project, all supplied by Stewart Milne.
The timber kit for all seven blocks was assembled on site in just 16 weeks.

"For developers, it is imperative student accommodation projects are delivered on schedule because of term deadlines," adds Goodfellow. "Due to offsite construction, timber frame is one of the best materials for delivering large scale projects fast and effectively."
The development is due for completion at the end of November 2012.
Project details
Client: Plymouth University
Contractor: BAM Construction                                                     
Key subcontractor: Stewart Milne Timber Systems
Client architect: Burwell Deakins       
BAM Construction architect: Grainge Architects of Exeter                                    
Project value: £8.5m
Programme start on site: February 2012
Completion: November 2012.
Got a story? Email news@theconstructionindex.co.uk