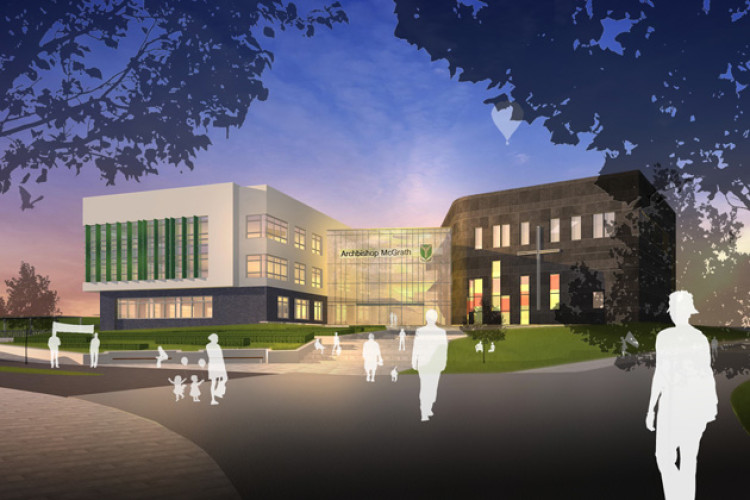 With environmental considerations paramount in the new development, a durable and sustainable cladding solution was required. For this, HLM Architects specified Artema cladding from leading producer of facade systems, Carea.
The school, since its inception 40 years ago, has seen its student numbers double in the last 20 years. Combining increasing numbers with the gradual deterioration of existing buildings, consultation was carried out with the Bridgend County Borough Council, Welsh Assembly Government and Archdiocese of Cardiff to assess the school's need for investment. As a result, the commitment to spend £20m on a new building was agreed, with the new school offering 8,500m2 of space including science laboratories and music suites as well as an all-weather sports pitch.
With any new development, sustainability is of utmost importance. Main contractors Leadbitter and HLM Architects have designed the school to achieve a BREEAM excellent rating. To provide the 'green' school facility, the building's design incorporates large amounts of insulation, recyclable materials and the use of local manufacturers wherever possible. The external facade supplied by Carea will also be crucial to achieving the required BREEAM rating, creating an envelope that - comprising of 95% natural minerals – also offers superb thermal insulation, protecting the building against changes in temperature and eliminating thermal bridging.
Once the Carea system has been installed, the panels will provide a wide range of benefits in addition to thermal efficiency and aesthetic appeal. Requiring minimal maintenance, the Artema panels are designed and manufactured to be non-porous. As such, this ensures that they provide an economical solution and long-term resistance to graffiti, weather conditions and climate.

To be installed across three storeys and covering approximately 50% of the school's total external walls, HLM Architects specified the riven textured, basalte colour Artema panel cladding. The dark grey 16mm Carea panels will be of vital importance to the school's contemporary appearance, perfectly complementing the building's modern architecture. Combining aesthetics and performance, Carea Artema cladding proved to be the ideal solution for the school.
Supported with a comprehensive range of joint fittings, the Carea Artema system provides the ideal cladding solution in terms of efficiency and sustainability. Specialist contractor Central Cladding Systems recently began the first phase of the facade installation, efficiently anchored the cladding panels to the building's cladding support system to easily match the architect's creative vision.
With the second stage of installation scheduled to begin this month, the comprehensive facade is expected to be completed in 2011. With the durable and eye-catching Carea cladding system, the new school building will certainly help to achieve all of the client's and designer's targets, delivering a stunning school building for the 21st Century. 
Got a story? Email news@theconstructionindex.co.uk