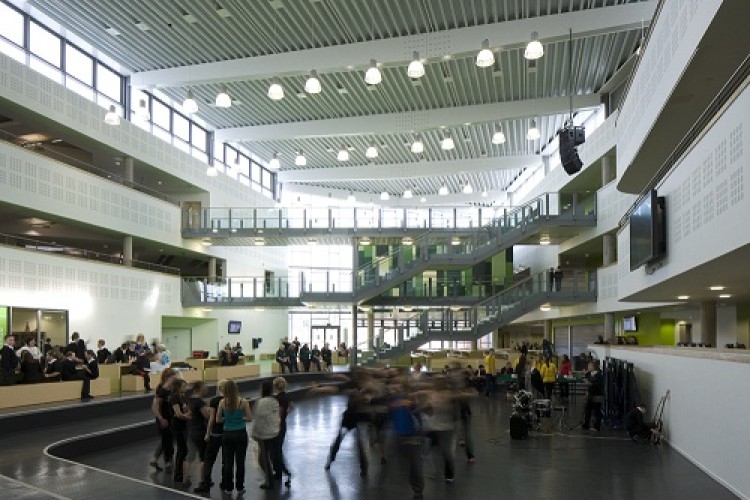 Designed around a central atrium, with open-plan teaching pods rather than classrooms, the Academy challenges the perception of what a school should look like.
Through clever design, state-of-the-art acoustic solutions and strategically placed partitions, the building supports the academy's modern teaching philosophy, enabling teachers to conduct lessons in the open-plan environment.
When main contractor Kier embarked on the Richard Rose Central Academy they entered into a framework agreement with British Gypsum that delivered an open working relationship between all participants of the project.
By beginning with an integrated approach, the team were able to develop solutions that met BB93 requirements and bring the design to life with minimal stress or delays.
To aid the process, British Gypsum invited teams from Kier, sub-contractors Astins and BPD Architects to its Drywall Academy, to identify and develop possible solutions for any obstacles that may become apparent during the build. This meant that when the actual build began, many of the issues that could potentially occur had already been dealt with, reducing delays and the need for costly re-designs.
One of the main stipulations for this project was the acoustic capabilities of the building. Due to its unique design, with multiple learning areas within a three-storey central atrium, it needed to be able to absorb the noise generated by up to 1,500 occupants enough to allow lessons to take place.
Multiple acoustic rafts constructed with British Gypsum Rigitone 12-120/66 perforated board were used to provide performance in-line with BB93 requirements and create a distinctive appearance within the 'classroom' areas. The team also developed a unique edge detail for the rafts using bonded Glasroc strips, which improved the appearance and installation of the rafts.

In areas such as music rooms, where the need for an even higher level of acoustic performance was required, GypWall Quiet was used along with the single frame option GypWall Quiet SF (combined with a double layer lining of Gyproc SoundBloc acoustic board). A bespoke twin frame variant of Gyproc DuraLine with single layer lining boarding was also developed to accommodate structural bracing in one area.
The concrete framework was lined using the GypLyner metal frame system and boarded with 15mm Gyproc Duraline for durability against the regular knocks and scrapes that a building occupied by 1,500 people endures on a daily basis. For noise reduction in these busy areas, Gyptone Line 6 ceiling planks were used to create a distinctive aesthetic, while also allowing easy access for maintenance.
Finally, BS 5234 Severe Duty partitions were specified throughout the building. These minimised damage in high traffic areas and also met the acoustic needs of the Academy. They were based on British Gypsum's GypWall Robust system, with various specifications of standard 'I' stud and high performance AcouStud, combined with Saint-Gobain Isover's insulation in-fill to give a high level of thermal and acoustic performance.
Alasdair Bell, British Gypsum's project manager, said: "Working on this project has been a great experience. By forming the partnership right from the start we were able to ensure the project could run as smoothly as possible, with most potential problems being overcome before we even reached the build site.
"Also, the design of the building was so different from a traditional educational establishment that it was a perfect place for us to showcase the ability of our acoustic ceilings range. The systems and solutions needed to perform in a demanding environment, as well as look great, and I think our products have lived up to expectations."   
The building opened in November 2010 and after nearly eight months in operation it has proved to be a real hit with both students and teachers. 
Got a story? Email news@theconstructionindex.co.uk