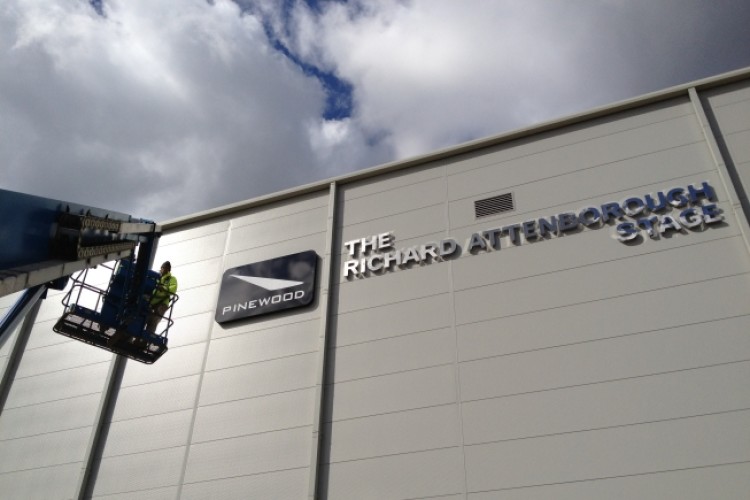 Dedicated to one of the British film industry's most respected figures, the recently completed Richard Attenborough Stage, at Pinewood Studios, required more than 420t of structural steelwork for its construction.
Covering an area of 3,000m2 it is more than equal to two Olympic swimming pools and reaches a maximum height of 18m. It is believed to be the tallest TV and film stage in Europe.
The building, which is 61.87m long and 45m wide, was completed in a 32 week fast track programme which was within budget and on schedule. Pinewood wanted the Stage up and running as quickly as possible and immediately following project handover it was being used for the film production of Les Miserables.
Roy Foster, a partner of Foster Willis Architects, says: "This was a very high speed project which had to meet exacting cost and performance standards. It was an outstanding achievement in such a congested, demanding environment."
Using steelwork helped the project team meet its tight deadlines and also negotiate the confined and busy site conditions. Steelwork's speed of construction is one of its main attributes and guaranteed the job was completed on schedule. Much of the steel was brought to site in small pieces, minimising truck movements in and around Pinewood Studios' narrow road network.
The Attenborough Stage is constructed on mass concrete foundations and trench footings which support the main braced steel frame. The perimeter of the structure's frame is formed with a series of 18m high columns, spaced at 7m intervals. Most of the bays feature diagonal bracing, positioned within the extra thick wall cavities which also accommodate acoustic insulation.
"We needed to stiffen the structure up and prevent any potential 'frame creaking' so we opted for a braced frame as opposed to a sway frame," says Alan Pemberton, operations director with structural engineer MLM.
Silence crucial
Any frame movement or creaking (noise) would be unhelpful in a TV and film environment where sound recordings are taking place. The client said it had encountered this problem in the past with other types of studio buildings, so this structure has plenty of bracing to limit or negate any potential movement.
Spanning the width of the building and creating the clear open column free space are eight tapering roof trusses, which vary in depth from 2.7m to a maximum of 4.2m at the structure's apex. The trusses are 45m long and were brought to site in small pieces and assembled on site into three sections. Once the three sections had been bolted together the trusses were then lifted into place as one large element by two mobile cranes.
"The trusses are so deep because they are working overtime, supporting an array of essential studio equipment, cabling, high level walkways and runway beams for a crane," says Bill Armstrong, senior project manager at steelwork contractor Atlas Ward Structures.
High level walkways crisscross the roof, supported on bottom cord of trusses, forming a working platform for maintenance, gantries and scenery hoists. There are five walkways spanning the length of the structure and eight spanning the width.
In a similar procedure to the trusses, walkways were brought to site in small sections to be assembled on the ground and then lifted into place as complete structures.

Underslung from the trusses are a series of runway beams for the studio's overhead crane. All of this equipment and ancillary steelwork means the trusses are supporting an enormous amount of weight, and so they were designed to withstand an imposed loading of 3kN/m2 over the whole roof area.
Atlas Ward completed the majority of its steel erection programme in an eight week programme, with the main challenge being the confined nature of the site.
"As we started erected the perimeter columns and trusses we were gradually eating up the available space," says Mr Armstrong. "Fortunately the trusses start 7m (one bay) in from each gable end, which meant there was room for our equipment when the last truss was erected."
Besides the challenges posted by the steelwork, the Richard Attenborough Stage also required installation of acoustic insulation to the internal walls, high-level walkways and runway beams, internal fire escape staircases, a cantilevered main entrance canopy with roller shutter doors, and a goods lift. Electrical switch rooms and lighting dimmer-control rooms have been constructed to the side of the stage, involving some £800,000 of mechanical & electrical installations.
Project fact file
The Richard Attenborough Stage, Pinewood Studios, Buckinghamshire
Client: Pinewood Studios
Architect: Foster Willis Architects
Main contractor: LIFE Build Solutions
Structural engineer: MLM
Steelwork contractor: Atlas Ward Structures
Steel tonnage: 420t
Project value: £4.5m
Steelwork is forever
Steel played a starring role in a previous Pinewood classic, the construction of the 007 Stage which was completed – appropriately – in 2007.
A well publicised fire had previously destroyed Pinewood Studios' Albert R. Broccoli stage, where filming of the James Bond movie, Casino Royale, had just finished.
This left the facility in urgent need of a replacement building.
Pinewood needed the new studio to be rebuilt and functional as quickly as possible because filming was due to begin on the next Bond installment.
Steelwork contractor Bourne Engineering, working on behalf of main contractor Bluestone, was contracted to a 16 week programme, which left the team with eight weeks to complete the steel-framed structural design, 3D modelling and download all of the information, and then a further eight weeks for steel erection.
The stage has a length of 102m, a width of 48m and is 19.2m high. It spans the world's largest indoor water tanks, with a capacity of more than one million gallons. They were initially constructed for the 1977 Bond movie, 'The Spy Who Loved Me' and have since been used for major water scenes in most of the subsequent spy movie series.
To support the roof and accommodate the 48m spans Bourne Engineering designed a series of 16 trusses. These large elements are 52.88m long, 4.3m deep in mid-section and 3m deep at the eaves.
Got a story? Email news@theconstructionindex.co.uk