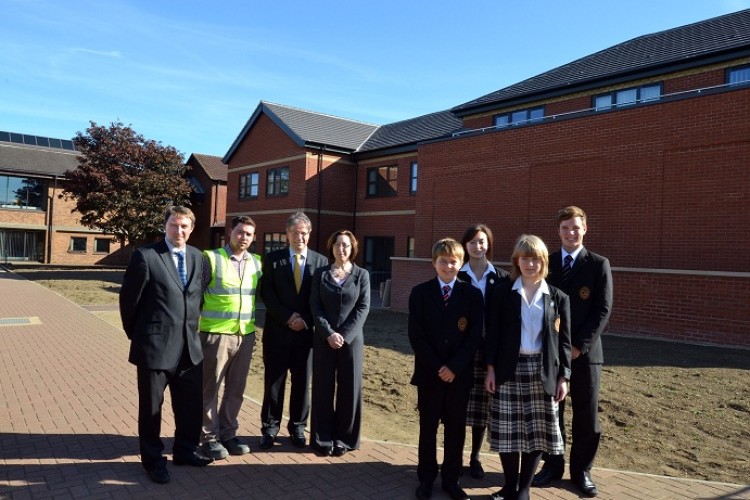 Stepnell began work in summer 2010 on the School's ambitious programme to bring biology, chemistry, physics and sports science departments together in one building. The new Mehra Faculty of Science will house modern laboratories and the Wilson auditorium. Stepnell has built a two-storey extension and a link between the existing biology and chemistry buildings to create the new facility.
Oakham is one of the country's leading co-educational independent schools. The teaching of science at Oakham has already taken a major step forward with the opening in May of four new biology labs which marked completion of the first phase of the new Mehra Science Faculty.
The school's headmaster believes the new Faculty will inspire future generations of pupils to become   scientists and engineers. "Against a nationwide background of declining numbers, the sciences are all thriving at Oakham," says headmaster Nigel Lashbrook. "Over half our pupils study one or more sciences at A level or as part of the International Baccalaureate. We have more students progressing to science-based degree courses than to any other subject. The Faculty's central mission will be to inspire the scientists of the future and for the first time, we will have biology, chemistry, physics and sports science departments all together in one building. Not only is this highly symbolic of the importance attached to science at Oakham, but it will bring about greater collaboration between the departments and a richer educational experience for our pupils."

The latest phase of work to be completed is a new presentation laboratory. Stepnell is now working on the sports science and physics laboratories with completion of the overall scheme expected in December 2011.
"Working in a live school environment, close communication with the school staff has been essential to the smooth running of the construction programme," says Stepnell project manager Phil Smith. "Our priority throughout has been to minimise any potential disruption through careful planning." 
Got a story? Email news@theconstructionindex.co.uk