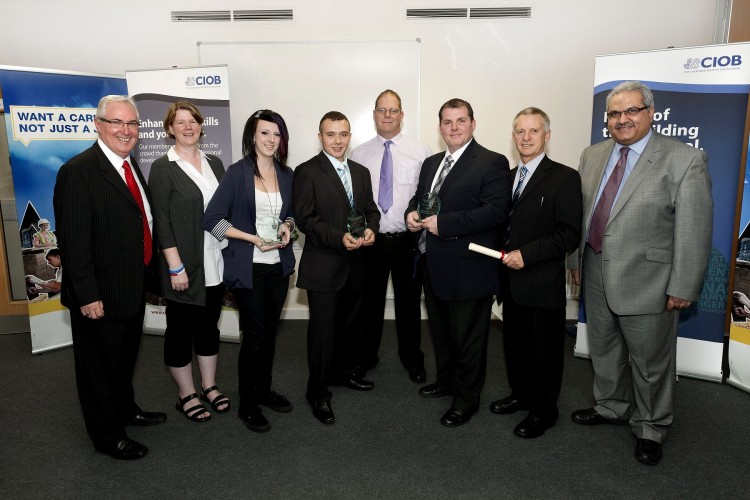 At a national ceremony held in London on Thursday, 15 September, Alex Tindall from The Isle of Sheppey, Caroline Sait from Southampton and Jordan Whittle from North Shields all received a trophy and prize money supplied by the CIOB, as part of the Rewarding Diplomas Awards.
Alex Tindall scooped £600 for achieving the highest grade in the country for the qualification at Level 3, while Caroline Sait and Jordan Whittle collected £300 and £100 respectively for their achievements at Levels 2 and 1. All three winners were also treated to an exclusive tour of the Olympic Park.
Alex Tindall who studied at MidKent College, was delighted with his prize. He said: "I've always fancied a career in construction, so studying the Diploma in C&BE was a great step towards achieving this goal. I learnt a huge amount over the last two years – not just the theory on different aspects of the industry, but a lot of practical work as well.
"I really enjoyed the course, and to receive £600 is a fantastic bonus. It was also great to get a look at the Olympic Park before everyone else sees it next year. I forgot to bring my spikes to test out the track though!"
The Rewarding Diplomas Awards were created by the Diploma in C&BE Partnership to demonstrate the qualification's continued success since its inception in 2008.
Roy Cavanagh MBE, Chair of the Diploma in C&BE Partnership, explained: "The Diploma in Construction and the Built Environment is recognised industry-wide as a really valuable qualification and a benchmark of quality for those entering the industry.

"Since its inception in 2008 the Diploma has supplied the industry with thousands of talented new recruits like Alex, Caroline and Jordan who are the future of the construction workforce.
"It's important therefore to recognise the value of the Diploma, what it means for the industry as well as the outstanding achievement of these students. It's fantastic to see the continued support from the CITB-ConstructionSkills and the CIOB as well as our sponsors today Edexcel and City & Guilds."
Sue Dennison, Examinations Manager, CIOB, commented: "We were very impressed with the extremely high standard of the short-listed candidates. In order to recognise the student's excellent results, the CIOB has decided to present additional Certificates of Achievement to all students that achieved A or A* grades in the Principal Learning and Project."
Robert Roseveare, Head of Diplomas at AQA-City & Guilds added: "At AQA and City & Guilds, we're committed to helping people discover their potential and unlock their talent, so I am delighted to see that our learners have found the Diploma programme so engaging and rewarding. Congratulations to Alex, Caroline and Jordan, and to all those who received special commendations for their achievements. I wish them the best of luck in their future careers."
Ziggy Liaquat, Managing Director of Edexcel said: "It is great to see the hard work these students have put into their Diploma being recognised. They are the future of the construction business and I congratulate them and wish them every success in the future."
Got a story? Email news@theconstructionindex.co.uk