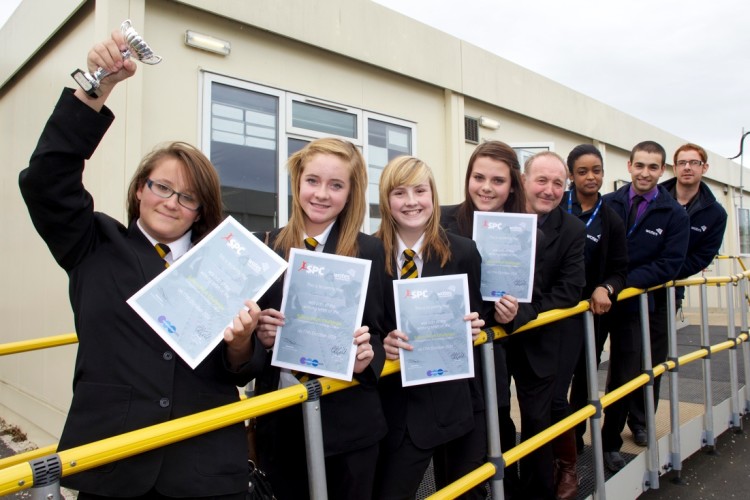 The Sports Pitch Challenge was organised and overseen by Wates Construction, the contractor behind the new £10.7m College building, to mark the construction of the new state-of-the-art, multi-use sports pitches, which will also be available for community use.
The event saw representatives from Wates, joined by industry training provider, Construction Skills, deliver the workshops to 140 Year 9 students from Campsmount School. The students worked in groups of four to develop the best solution for the school's new sports pitches without exceeded the allocated budget.
The challenge involved them electing a Project Manager for the work, identifying the facilities required, examining the construction plans, researching costs, establishing an acceptable profit margin, and developing a design. They were then required to submit a tender and prepare a presentation that was delivered to the Wates panel at the end of the day.
The proposals were judged based on the expertise and professionalism of the Project Manager, demonstration of effective teamwork, the quality of the completed tender and suitability of the proposed plan and the final presentation. Four winning teams were then awarded a certificate and trophy and given the unique opportunity to have a sneak preview of the new school before completion, scheduled for February 2012.
David Price, Business Unit Director for Wates Construction in Yorkshire,
commented: "Our Sports Pitch Challenge initiative is an excellent way of engaging young people and giving them a hands-on insight into the construction industry, beyond the physical aspects of building. We have seen several shining stars today who I am confident have a glittering construction career ahead of them."
Andy Sprakes, Head Teacher at Campsmount Technology College added: "I'd like to send my sincere thanks to Wates for taking time out of building to deliver this initiative as part of our Year 9 Alternative Curriculum day. As well as building confidence and enthusiasm amongst the students, it enables us to help bridge the skills gap between education and employment. Today has given the students an appreciation of what will go into the construction of our brand new sports facilities, which the school intends to open up to public use for our community's sports clubs."
Pam Lee, Construction Careers Adviser from Construction Skills, commented:
"CIBT-Construction Skills are eager to promote the range of careers in construction within schools, especially Apprenticeships through CITB-Construction Skills Managing Agency."
Construction of the new Campsmount Technology College in Doncaster commenced in February 2011 and is being delivered by Wates Construction under the supervision of Doncaster Council's school rebuilding team, with support from The Department for Education (DfE).
The rebuild project includes the design and build of the main school, new access roads and brand new sports pitches, which will be open for community use. The previous school buildings were destroyed by fire in 2009.
Got a story? Email news@theconstructionindex.co.uk