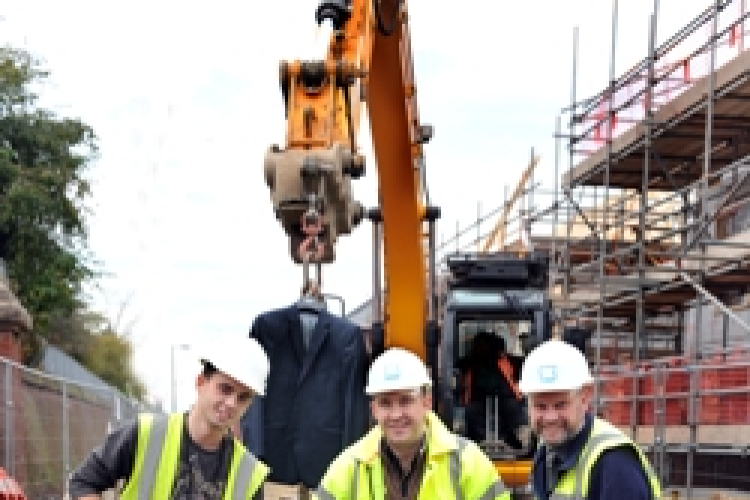 As part of Suits On Site, an initiative run by sector recruitment specialist Hays Construction & Property, regional business manager Danny Murphy swapped his suit for a hard hat and other protective equipment on Southdale's Alder Street development in Salford.
Danny worked as a labourer for the day, joining three other labourers and telehandler drivers recruited on the site by Hays, to raise money for the Lighthouse Club Benevolent Fund, which supports construction people and families who are no longer able to work. The charity is run by industry volunteers and operates from 21 locations around the UK. Since its formation in 1962, The Lighthouse Club Benevolent Fund as a registered charity has given out nearly £10 million in aid and has helped thousands of construction workers and their families.
In return for Danny's day of labour, Southdale made a donation to this worthwhile charity for the second year running.
The scheme goes some way to enhancing the relationship between Hays and Southdale in the North West, where 12 trades people have been placed in roles such as labourers and telehandler drivers, including the three people on the Alder Street site. In fact, more than 30 percent of the staff who work at the Alder Street site live within a 10 mile radius and this forms part of Southdale's commitment to employing local labour.

Southdale is building 17 new family homes and refurbishing 23 existing houses at Alder Street for their client Great Places Housing Group.
Danny said: "I thoroughly enjoyed my day with Southdale. My work often involves me visiting construction sites, but the opportunity to see the job from the other side was fantastic, because not only does it help me to understand the roles of those people we help to get jobs, it also raised money for the Lighthouse Club Benevolent Fund."
Southdale's site manager, Andy Longden added: "Suits on Site is an excellent initiative in aid of a fantastic cause. Any one of us on site could one day end up in need of help from the Lighthouse Club Benevolent Fund, so we appreciate the value of what it provides. Hays has placed five people with us on this particular site, so it was good for Danny to see the working day from the perspective of the people he recruits."
Stephen Porter, chief executive of Great Places Housing Group, said: "We are delighted that money is being raised for such a relevant and worthy cause. We fully support Southdale in its continued efforts to employ local people for a development that we hope will be a diverse and exciting place to live."
Got a story? Email news@theconstructionindex.co.uk