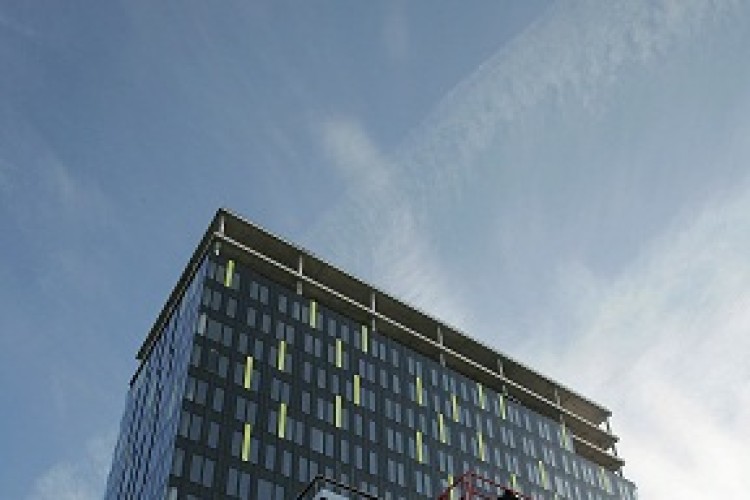 Supplying a total of 540 STAP and STAD balancing valves, TA Hydronics has designed and delivered a hydronically balanced system that will meet the heating and cooling requirements of the entire building, irrespective of its height, whilst helping to save energy and lower subsequent CO2 emissions.
The solution, which covers a gross area of 20,000m2, has a heating capacity of 800kw and cooling capacity of 400kw for cooling ceiling technology and 400kw for cooling supply air.
Providing specialist technical advice via the Engineering Support Centre in Budapest, TA Hydronics worked closely with the consultant and technician at Energie AG to create a system that would meet the energy efficient requirements expected from the building. Using a variable flow solution comprising a four pipe outlet system, it was possible to achieve a far superior level of control over the hydronics helping to save energy by reducing the number of circulation pumps required.

Consisting two differential pressure controllers in every room of the building, one for heating and one for cooling, TA Hydronics has provided a system that will ensure the comfort needs of occupants are met at all times.
With the passive energy concept in place on the project, it is worth considering the ways in which naturally occurring sources of energy are harnessed to benefit the building. Groundwater harvested from the River Danube is used for both heating and cooling purposes whilst 700 square metres of PV panels attached to the building's façade will supply electricity.
Josef Stiegler, Technical Consultant from TA Hydronics Austria, commented, "With a variable flow system it is possible to achieve better control of the hydronics. In addition, a system using fewer pumps, such as that installed on the Energie AG project, means dramatic energy savings can be made."
Got a story? Email news@theconstructionindex.co.uk