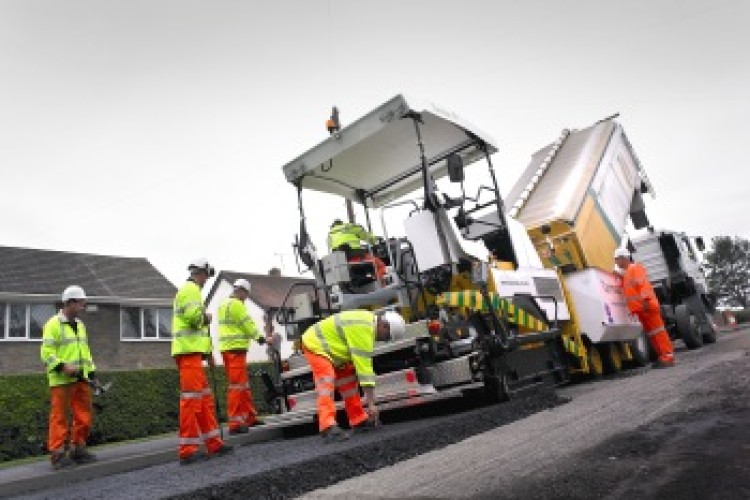 However, Tarmac's EBITDA (earnings before interest, taxation, depreciation and amortisation) was positive at £24m, 21% lower than the same period last year.
Just like Travis Perkins yesterday, Anglo American cited the rain as a factor in Tarmac's performance. "Performance has been eroded by wet weather during the second quarter of 2012 which has caused disruption in building activity and a reduction in retail sales affecting sales volumes," the company said.
It was not, however, the only factor.
On Tarmac's Quarry Materials business the company said: "Price increases, and further improvements in the use of recycled asphalt material in the UK Quarry Materials business, have mitigated the impact that increased oil costs had in the first half on bitumen used in asphalt. Cement production levels have also been held up through maximising operational efficiencies. The market continues to decline, however, with weak private sector demand reducing concrete and aggregates volumes in the first half and reduced public spend on road building and repairs adversely affecting asphalt volumes."

And on Building Products: "An improvement in performance has been driven by strong volume growth in aircrete blocks, an increase in premium product sales on bagged aggregates, and the production of sleepers to service the Network Rail contract. Additional improvements in financial performance have arisen from actions taken in 2011 which include the closure of the Precast businesses and the asset impairment review.
"The general market remains weak which is resulting in a very competitive pricing environment to secure the limited sales volumes available. Cost reduction projects and improvements in operating efficiencies are high on the agenda to mitigate the impact of lower sales.
"Although a number of initiatives are in progress to improve performance, the short term market outlook remains difficult. "
Anglo American added that both it and Lafarge will continue to work towards establishing a joint venture for their UK operations. In February 2011, Anglo American and Lafarge announced a deal to combine their cement, aggregates, ready-mixed concrete, asphalt and contracting businesses in the UK.  On 1 May 2012, the Competition Commission conditionally approved the proposed joint venture. Conditions include the need to divest certain cement, aggregates, asphalt and ready-mixed concrete sites of both businesses. "Both parties will work with the regulators to implement the required divestments and establish the proposed joint venture as soon as practicable," Anglo American said.
Got a story? Email news@theconstructionindex.co.uk