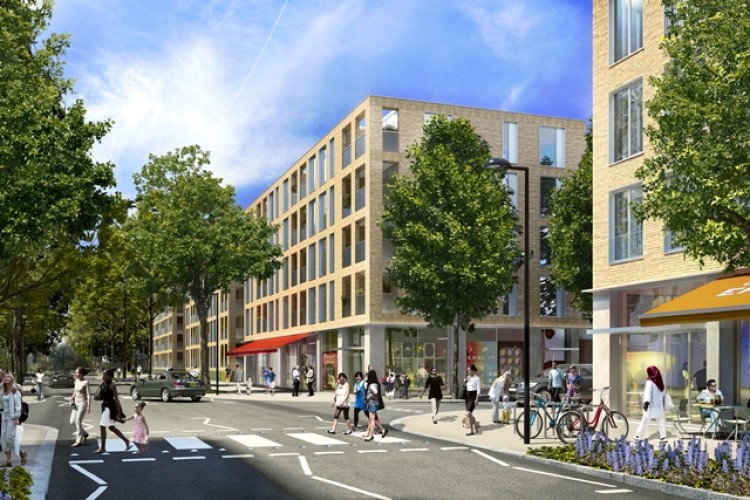 Chobham Manor will be built where the Basketball Arena currently is, between the Athletes' Village and the Lee Valley VeloPark.
In contrast to the Athletes' Village, which will be converted into 2,800 flat after the games, Chobham Manor will comprise traditional family neighbourhoods of terraced and mews houses, set within tree-lined avenues and supported by a new health centre, nurseries and community spaces. More than 75% of the 870 homes be family housing of three or more bedrooms.  
The appointment follows the awarding of outline planning permission last month to the Legacy Corporation for 6,800 homes across five new neighbourhoods including Chobham Manor. They will be developed over the next 20 years.
Construction work on Chobham Manor can begin in October once the Legacy Corporation takes operational control of the Park. It aims to have first homes ready by the end of 2014.
BAM has already completed Chobham Academy on this site, which will become operational after the Olympics.
London Legacy Development Corporation chairman Daniel Moylan said: "We are delighted to have appointed Taylor Wimpey and L&Q as developers to build Chobham Manor. The calibre of bidders was very high and testament to the commercial pull of Queen Elizabeth Olympic Park. Chobham Manor will set the tone for the high quality neighbourhoods we want to create across the Park with new schools, health centres and community spaces to support them."


Housing association L&Q (London & Quadrant) is the largest housing provider in London and the southeast.
London Legacy Development Corporation chief executive Andrew Altman added: "We are seeing the delivery of the Park's legacy at an unprecedented level of quality and speed. Having secured outline planning approval, we now have the developer in place to create the first of five neighbourhoods. These are significant milestones and examples of how London is further ahead in planning legacy than any previous Host Olympic City."
Taylor Wimpey group chief executive Pete Redfern said: "Chobham Manor will see us work with LLDC and L&Q to create a brand new community, providing east London with much needed family homes, facilities and supporting infrastructure. Built to the highest quality with exemplar design, the development is a high profile opportunity to provide new homes for Londoners and meeting the needs of local people both now and into the future will be key.
"Engaging with them to create a truly sustainable community is at the heart of our approach and we will work closely with all stakeholders to ensure that we deliver a development of which we and Queen Elizabeth Olympic Park's residents can all be proud."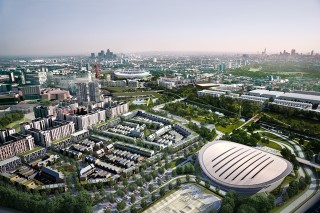 Above: Aerial view of Chobam Manor, as planned
Got a story? Email news@theconstructionindex.co.uk