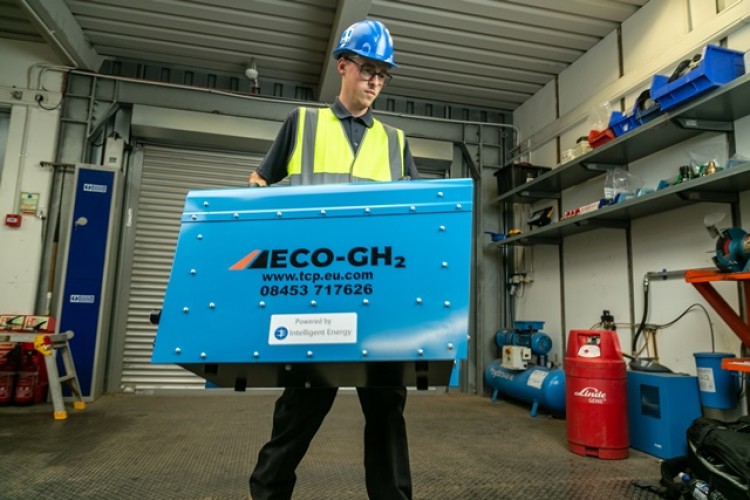 The ECO GH2 will be launched at the UK Construction Week trade show, taking place at the Birmingham National Exhibition Centre (NEC) 9-11 October 2018.
Intelligent Energy and TCP formed a strategic partnership in late 2017 to integrate, test and evaluate new products for the construction industry. The ECO GH2 is the first product from this collaboration. It provides an off-grid, zero-emission power source.
It is fuelled by hydrogen and uses an Intelligent Energy 801 fuel cell module (FCM) to produce a DC generator, which is capable of a maximum output of 1kW. The ECO GH2 can be used with DC power loads or with a TCP inverter power pack to produce an off-grid generator unit up to 5kW for power tools, accessories and welfare units.

The unit is lightweight, easy to carry and operate, near silent and can be used in enclosed ventilated spaces, TCP says.
Taylor Construction Plant managing director Andrew Barker said: "By integrating Intelligent Energy's 801 fuel cell module with our product design we have produced a fully functional DC generator which can be used for multiple applications. The unit is also a vital component to our new LGP inverter power pack; together they provide an output of 5KW and are an invaluable resource for the construction industry in its bid to achieve zero emissions."
Intelligent Energy interim chief executive Alistair Ball said: "Change is taking place in the construction industry as a growing number of businesses understand the need to transition to a cleaner way of working. Our fuel cell products could have a marked impact for the construction industry in addressing issues around ambient noise, air quality and climate change. Our FCMs have been developed to be a viable, more responsible alternative to diesel generators and can be deployed to deliver power for a wide range of applications working in both urban and non-urban areas."
Got a story? Email news@theconstructionindex.co.uk