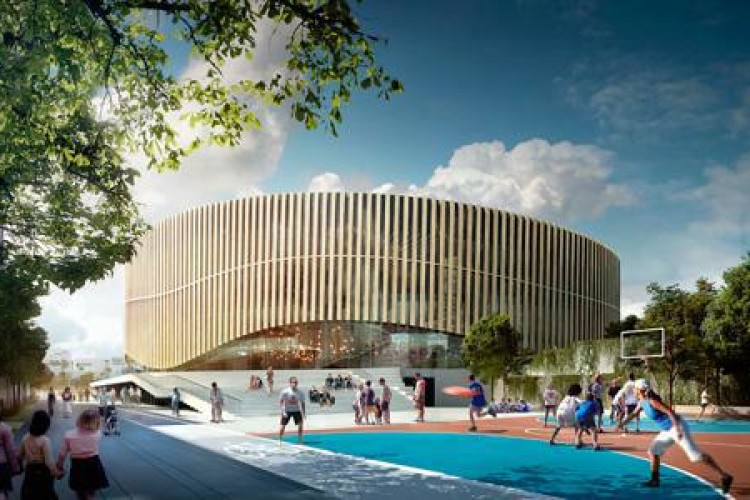 Arena CPHX, will now begin to plan and to prepare the tender for the turnkey contract. The turnkey contract is expected to be finalised at the end of 2012 with construction scheduled to start in the spring of 2013.
Arup was a member of all three shortlisted teams. The other two teams on the shortlist were CF Møller, Grimshaw, Arup, Niras and Marianne Levinsen; and Foster + Partners with A78 and Arup.
The arena will be situated in the Ørestad-area, which is a short metro ride from the city centre of Denmark's capital.
"Our ambition was to create an arena, that besides from hosting a range of amazing sporting and musical events would also be a catalyst for various local activities for the enjoyment of residents and visitors" said partner and creative director of 3XN, Kim Herforth Nielsen.

"Therefore, the areas surrounding the arena are designed to be used for recreational purposes, while the public foyer easily can host markets or exhibitions. In this way, the arena is also a cultural centre."
Architecturally the design of the Arena is divided into a plinth and a top. The organic shapes of the plinth create a number of spaces and niches, which can be used for recreational purposes and which also helps to regulate the movements of spectators. The top has a semi-transparent façade with terracotta fins in a golden colour. "Terracotta is a material that has a long history of use in Denmark. It is durable and robust, and gives the arena stoutness. Moreover, the waving motion of the terracotta fins adds a playful and elegant expression to the building," said 3XN partner and head of competition Jan Ammundsen.
Copenhagen Arena will have a capacity between 12,500 and 15,000 depending on the type of activities being carried out. It is expected to be completed in autumn of 2015.
Got a story? Email news@theconstructionindex.co.uk