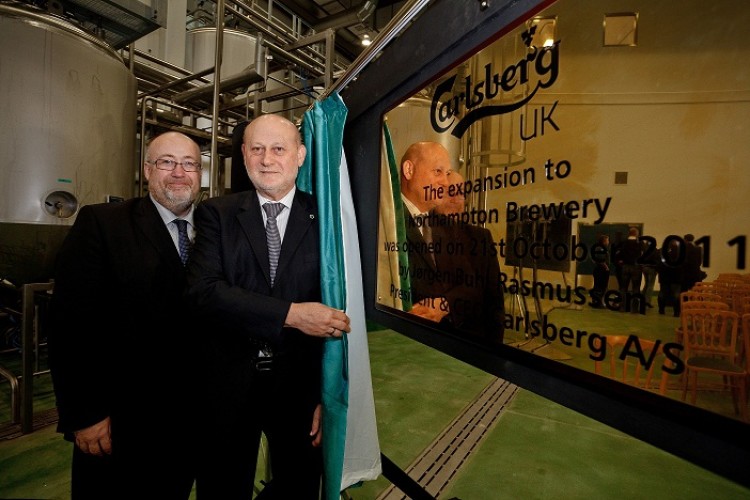 The contract involved upgrading the capacity of the facility from 4.5 million hectolitres to 6.3 million hectolitres and construction of two new buildings which house the Bright Beer Tanks and Water Treatment facilities. 
The contract is in line with Miller Construction's strategy to focus on seven key markets which include Science and Technology.  The production of food and drink fits well within this target market and the leading construction company is confident that this successful and intricate completion will provide an excellent platform for future contracts in the market.
Structural modifications had to be made to the brewery to allow the removal of 56 existing 14 metre high fermentation vessels.  Following their removal, the processing area underwent a complete refurbishment and new mechanical and electrical systems were installed, in tandem with Carlsberg's new process installation.  A two-storey internal steel structure was incorporated within the processing area, creating a pod building which houses a new control centre, laboratory and office space. 
Chris Webster, Chief Executive, Miller Construction, said: "We are delighted to have completed works for Carlsberg at their main UK brewery in Northampton, on what was a challenging project for the team working in a live environment during Carlsberg's normal production process. 
"Throughout the job we have undertaken a number of complexities which are faced within a live environment, ensuring continued service for the brewery and maintaining the highest health and safety standards for Carlsberg and our own employees.

"This project illustrates our ability to deliver quality production facilities in the industrial environment and we look forward to securing future work in this important market."
The works included modification in three key areas; canning, bottling and packaging.  Programming was instrumental to ensure that production did not stop at any time, further demonstrating Miller's ability to operate in a live production environment.
In addition to the build itself, Miller carried out the civil engineering works for the brewery by laying new caustic drains for both the Bright Beer Tank and Water Treatment facilities.  Through close collaboration with Carlsberg's installation team the programme of works was designed in order that production remained live whilst the transfer of utilities was carried out. 
Henriette Kristup, Supply Chain Director, Carlsberg UK, said: "We are delighted with our new facility which has increased our production capacity at Northampton.  The Miller Construction team were tasked with the difficult job of operating in a live environment while ensuring that our production was maintained.
"Our brewery in Northampton is one of the most efficient and up-to-date breweries in the UK, enabling us to maintain our position at the forefront of the UK beer market."
Got a story? Email news@theconstructionindex.co.uk