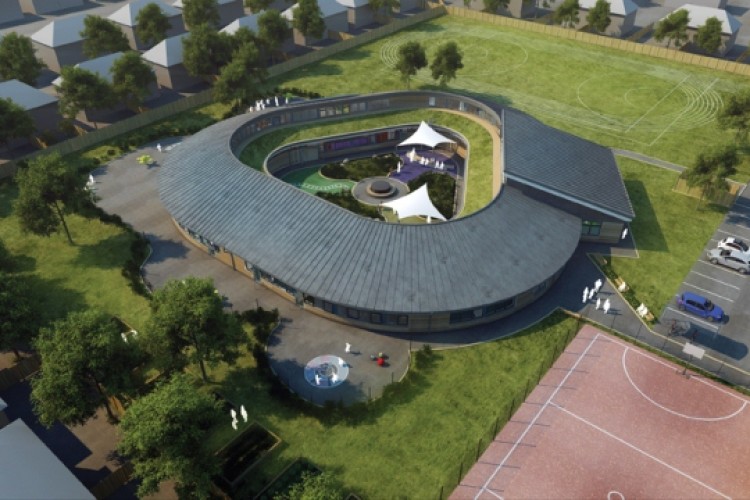 Forget the design fees, the long procurement process and endless meetings. Sunesis, a 50:50 joint venture between Scape and Willmott Dixon is offering clients the chance to purchase a new school in the same way they might choose a car or a kettle. And to deliver it within six months.
Click onto the Sunesis website. There are four primary school designs, and one secondary, that have been conceived to cater for virtually any ground conditions and size of site.
Once you've chosen your model, click through the options. Would you like a green roof or photo voltaic panels? Cedar cladding or brickwork? Do you need a new sports area? Each of these elements has a separate price tag, and the running total appears on the screen.
Online enquires are welcome. Sunesis will carry out ground surveys at its own risk, and will tell a client within three weeks how a design might fit on their site. Gone are the days of lengthy and expensive feasibility studies. Up to this point, the client doesn't have to pay a penny.
It's a revolutionary idea for a sector where costs are usually estimated by the square metre.
Local authority controlled delivery body Scape and Willmott Dixon launched the project that became Sunesis a year before the James Review was published.
"It was a big risk, and expensive," says Scott Corey, national Scape framework manager for Willmott Dixon.
Willmott Dixon has built 322 schools in the past 10 years. The first task was to decide which designs had worked best. The companies reviewed every school, putting them into categories. One was linear, one was donut shaped, one went up high,  and the other was a curved design.
The next task was translating the design excellence and best practice into a series of flexible, standardised designs. But persuading architects to participate was not easy.  
This is not surprising for the fee-based profession: a practice could earn £350,000 for designing a bespoke school from scratch. Contrast this with a figure in the region of £15,000 for adapting a standardised school to a site.
But architects that work with Sunesis will be kept busy with repeat work. A practice is assigned to each Sunesis design, earning royalties and adaptation work each time it is picked.
"This incentivises them to produce the best designs possible," says Scape business development director Steve Elkin. "It's the survival of the fittest."
Sunesis designers have generally followed Building Bulletin guidance, but constantly challenge received wisdom. Why, for example, does a primary school need a hall high enough to play badminton in? Discovering that primary halls were rarely used for such activity, they decided to lower the roof. "We instantly took £200,000 to £300,000 out of the price," says Elkin.
Savings have also been made through creating a more efficient construction programme, and the subsequent need for fewer workers on site.
But Corey stresses that  there has been no skimping on the specification of materials.  Costs will be kept down through bulk buying.

Corey says the designs will be evaluated and constantly reviewed, and may be tweaked every few months. Sunesis is also hoping for further innovation from the supply chain.
"If we standardise a building, people will understand how their widgets fit within it. They will actually invest to improve their products," says Elkin.
With 62 enquiries on the Sunesis books, the Sunesis way of building schools appears to be taking off, but Elkin admits that he met a lot of resistance when the idea was first floated.
"We were getting a lot of vitriol from clients," he says. "They accused us of moving away from partnering, and engagement. In fact, we're doing the opposite.
 "In the old days head teachers would have had to sit in on endless meetings deciding things like toilet design. There are only so many ways you can build a toilet in a school. We're freeing up their time to focus on things that they really care about, like furniture and classroom layout."
He adds: "One year on, people are beginning to come back to us. They're beginning to get it."
Case study:
Oakfield Primary School, Rugby
The new building to expand Oakfield Primary School in Rugby is a one-storey bricks and mortar structure, with a pitched roof and a steel portal frame. The linear design has rows of classrooms facing each other across a double width corridor – a street – which is wide enough to be used for activities.
It is an unassuming building but, according to Scott Corey, simplicity is its strength. There is very little that can go wrong technically. The pitched roof allows circulation of air, so mechanical systems are not required. Skylights flood each classroom with extra light. If the plumbing goes wrong, a local tradesman can be called out.
The school is the first to be built by the Sunesis JV and is the 'Keynes' design,  developed in collaboration with Atkins. "Keynes is the simplest and cheapest of the four models," says Corey, "and it's by far the most popular. Nearly half of our enquiries are for Keynes."
The Oakwood school project has a fixed cost of £2.2m, and this includes the building, foundations, multi use games area, car park, allotments and design fees. Contingency fund is also included in the price.
 "We've designed out risk," explains Corey. "The Keynes design is a lightweight steel frame on raft foundations. It would be suitable for most sites. In unusual ground conditions we would we have to thicken the slab, but this would be of marginal extra cost to the client, compared with designing new foundations from scratch."
The design, the first in the Sunesis portfolio to be endorsed by the Design Council, allows flexibility for the future. It can easily be extended, and the structure is lightweight enough not to need any internal supporting columns. As a result the internal walls can be reconfigured – or removed – if necessary.
Oakwood is being constructed in 26 weeks, as opposed to a more conventional 45 weeks for a building of that size, according to Corey. It is also being built predominantly by local tradesmen. Under Willmott Dixon targets, 50% of construction spend is within a 20 mile radius of each project.
Corey adds: "This design will keep evolving. In five years time I'd be really happy if we could build a Keynes school for £1.8m, and do it faster, at an even higher quality."
Got a story? Email news@theconstructionindex.co.uk