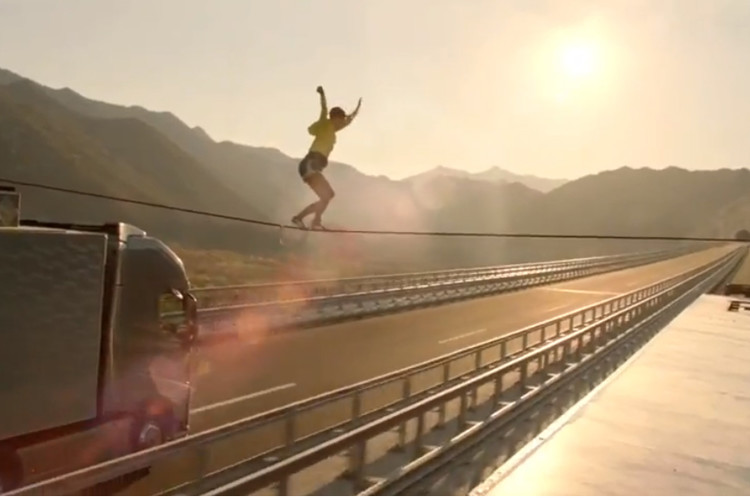 "For almost two decades, the Volvo FH Series has provided haulage companies with safety, efficient transport and high quality," said Volvo Truck Corporation president Claes Nilsson. "Now, with our new replacements, we are going to be even better in all three areas."
Volvo conducted extensive testing among drivers and operators with the aim of ensuring that the new model meets the highest requirements. "It really is our customers who have influenced the end-product and I'm convinced that we're setting a new benchmark for the entire truck industry," said Nilsson.
Several structural improvements give the new Volvo FH series a more stable and flexible design, which it is illustrating with a film entitled 'the ballerina stunt'. Slackline walker Faith Dickey walks a tightrope between two trucks travelling at 50 mph.
"The Volvo FH is more like a car than a truck when it comes to precise response and confidence-inspiring directional stability," said product manager Martin Palming.
With the new Volvo FH series comes a new independent front suspension (IFS) system for left-hand drive heavy trucks, initially. Each front wheel is suspended separately from the other so it does not affect the movement of the other wheel. The result is gentler, more settled progress on the road.The world premiere and official launch of the Volvo FH Series will be held on 5 September in Gothenburg.
Got a story? Email news@theconstructionindex.co.uk