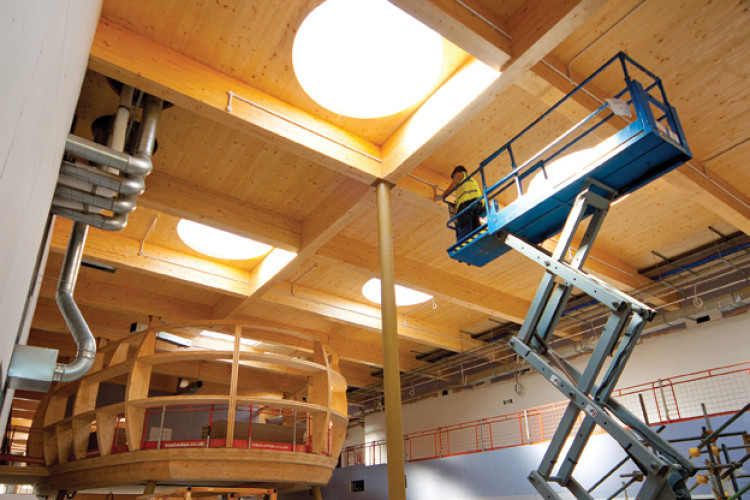 Kier has just completed two major extensions at the West London Academy in less than a year – by using a high-speed timber frame construction method.
One extension, the 'Arc', expands primary and nursery provision at the all-ages academy in Northolt by 210 extra places, while the two-storey 'Quad' extension provides additional secondary teaching space.
Kier built the new facilities using cross-laminated timber (CLT) construction methods, chosen for its growing reputation in delivering strong environmental performance, cost-savings and time certainty. The design was a key factor in Kier being selected to build the Academy, according to the contractor.
West London Academy principal Hilary Macaulay says: "We opted for CLT because it offered speed of build, quality of finish and a feeling of solidity. We have not been disappointed."
The timber frame concept for the two extensions was developed by structural engineer Ramboll and CLT specialist KLH, who had worked with Kier on two previous Academies in Norwich.
From an early stage, 3D integrated modelling software was employed to co-ordinate structural design. Components were precision-made at KLH's plant in Austria using AutoCad 3D machining data and CNC computer-controlled cutting tools.
The design was made as flexible as possible, to meet the likely future requirements of the academy.
The Arc is shaped in a long sweeping curve, and contains a 52-place nursery, plus reception and Year 1 classrooms. Tunnels of natural roof light illuminate the 'heart space' at the centre of the structure.
The Quad features huge Glulam beams and exposed roof timbers, and will accommodate the design and technology department, art department, and ICT. The 'Zeppelin', a futuristic pod-shaped media studies centre 'floats' over the main atrium area.
Assembling the Arc started last November and the Quad followed in January. Each timber frame was erected in less than seven weeks, involving 17 lorry loads delivered in a closely co-ordinated programme.
Kier senior project manager Rob Brown explains: "We ensured that all deliveries could be handled by conventional articulated lorries. Avoiding special arrangements for extra wide or long vehicles was crucial, as the site entrance is on a congested dual carriageway close to the A40.
"No special lifts were necessary, as the timber system is much lighter than a comparable steel or concrete structure. We just needed a pair of 50-tonne mobile rigs, which minimised the amount of crane matting required."
The modular erection system also coped well with extreme weather conditions. During January's heavy snowfall, while many other sites were closed, West London Academy maintained full operation.

Because it was not clear if the existing school structure could accommodate the additional load, the Quad extension was treated as a standalone structural frame, but this raised the tricky question of how to support the central atrium roof. Ramboll solved this by using the Zeppelin's ribs as columns, with the roof structure cantilevering off the central pod.
Brown was struck by the cleanliness, speed and efficiency of erecting CLT panels. "Off-site manufacturing means less energy and water are required on site, compared to traditional concrete or steel structural frames, and using CLT has also reduced waste on site," he says.
Subsequent fit-out operations were also faster, as dry lining and other follow-on trades could use basic hand tools for fixing onto the timber.
A major benefit of using CLT instead of conventional construction methods is the considerable savings it brings in carbon dioxide emissions. Just over 1,200m3, or 550 tonnes, of CLT were used at Northolt. KLH has calculated that more than 900 tonnes of CO2 have been removed from the atmosphere - even after allowing for transportation of materials. Recent tests revealed the precision manufacture of CLT has also achieved an impressively low air leakage rate of just 2.7m3/hr/m2.
Project details
Client: London Borough of Ealing
Contractor: Kier Construction
Architect: Architects Co-Partnership
Structural engineer: Ramboll UK
CLT specialist: KLH UK
Start date on site: 31 August, 2011
Completion: August 27, 2012
Value: £10m
Got a story? Email news@theconstructionindex.co.uk