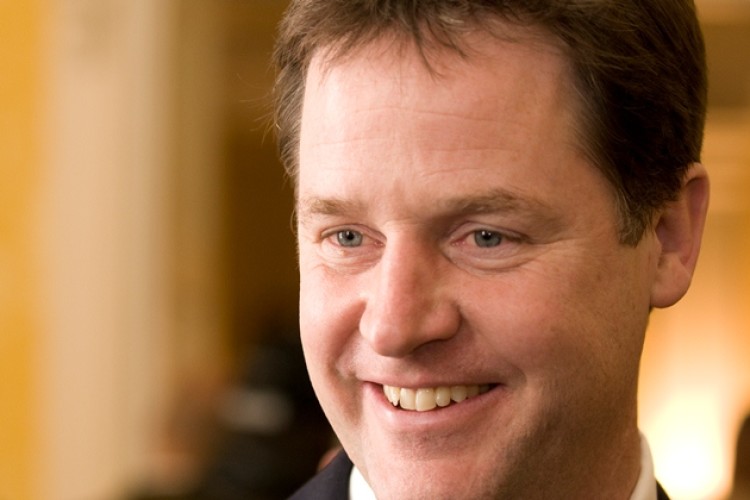 It is also looking to promote the creation of a new wave of garden cities to meet the housing crsis.
"It's time to think big," deputy prime minister Nick Clegg will tell the National House-building Council (NHBC) in a speech today.
By looking again at previously-agreed Section 106 planning gain deals that have become unviable and by stepping in to underwrite projects where necessary, the government is trying to kickstart stalled building projects into life.
The draft of Mr Clegg's speech states: "We are working with a number of large locally-led schemes, ranging from 4000 to 9,500 units in size which, in total will deliver up to 48,600 new homes. The sites have been held up for various reasons: cash-flow problems following the banking crash; bureaucracy and licensing issues, a lack of upfront investment for infrastructure. Some for up to 10 years."
He continues: "So we will unlock the barriers to investment. We will make sure that bureaucracy does not hold back these developments: bringing partners together to get action on the ground. And, where investment is required, I can announce new funding. We will provide £225m of government money which will also leverage private investment to effectively de-risk these or similar projects and get them moving."

The government is also planning to launch a competition to promote the development of new towns like Milton Keynes, Stevenage, Peterborough, Letchworth and Welwyn Garden City.
"Government needs to get better at encouraging these kinds of long-term developments, which, by definition, take time and need certainty. Departments aren't used to thinking beyond the next Spending Review, let alone the next Parliament - but we need to shift our sights. Of course, we can't start making decisions for the next spending round now and we need to be realistic about the pressure on the public finances, which will continue for some time. But we can and we must ensure local areas have the time and the direction to prepare their bids.
"I want us to make the best offers to the most ambitious proposals. So not just 5,000 new homes; but 15,000, 25,000.
"I want us to encourage projects which are sustainable and socially diverse. Where it makes sense I want us to designate more, new greenbelt around new settlements– that's something no government has really done for a generation. We'll need to find ways to create more certainty for large scale projects. And, in general, I think we need to move to longer timeframes in the way we budget for capital."
The government is working on a prospectus setting out further details on this plan, on what is expects from local authorities and developers, and what it will offer in return.
Got a story? Email news@theconstructionindex.co.uk