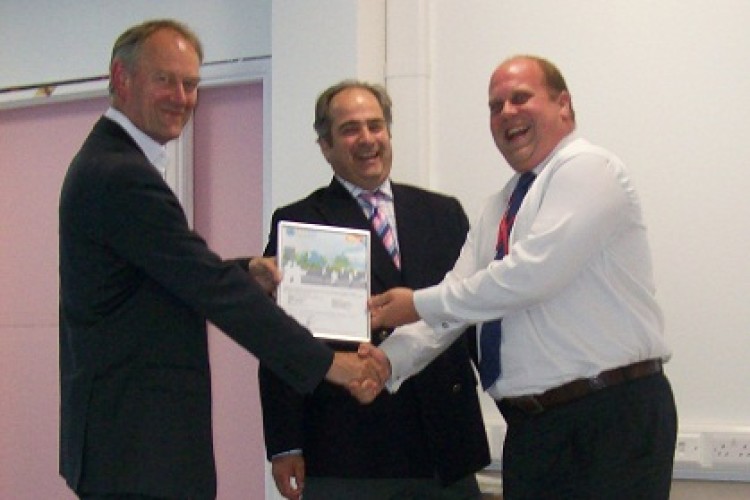 The participating schools were Swanlea School, Morpeth School, Sir John Cass Foundation and Red Coat School and Oaklands School.
The awards were presented on site at Swanlea School by Bouygues UK's Operations Director, Chris Stevens, following a short speech on sustainability.  Also in attendance was Mike Davis, representing the local authority, and other guests from Bouygues UK.
The Ecosite label is recognition of the environmental standards that have been met by everyone involved on the building projects, based on the most stringent regulations and exemplary practices observed within Bouygues Construction, the parent organisation of Bouygues UK who is building the schools within Tower Hamlets.
The Ecosite label is granted to Bouygues projects which meet the following 11 criteria: analysis of environmental risks, waste management, hazardous products, reduction of site noise, air quality, the quality of the aquatic environment, conservation of biodiversity, reduction of energy consumption, cleanliness and tidiness, communications and handling of emergency situations.
Ecosite accreditation has been awarded to 15 sites across three boroughs within Bouygues UK prior this batch of schools in Tower Hamlets, reinforcing our commitment to sustainable construction in the UK.

Managing Director of Bouygues UK, Lionel Christolomme said:
"We are committed to protecting the environment in everything we do in the UK and are pleased to be able to add our work in Tower Hamlets to our list of sustainability achievements.  I am proud of the site teams for all their efforts."
Ann Sutcliffe, Head of BSF and Asset Management at Tower Hamlets said:
"Tower Hamlets School Renovation Programme is transforming education in the borough.  Bouygues UK, our construction partner, understands the importance of improving our schools and we are pleased that a number of our developments have been awarded for their environmental standards."
Got a story? Email news@theconstructionindex.co.uk