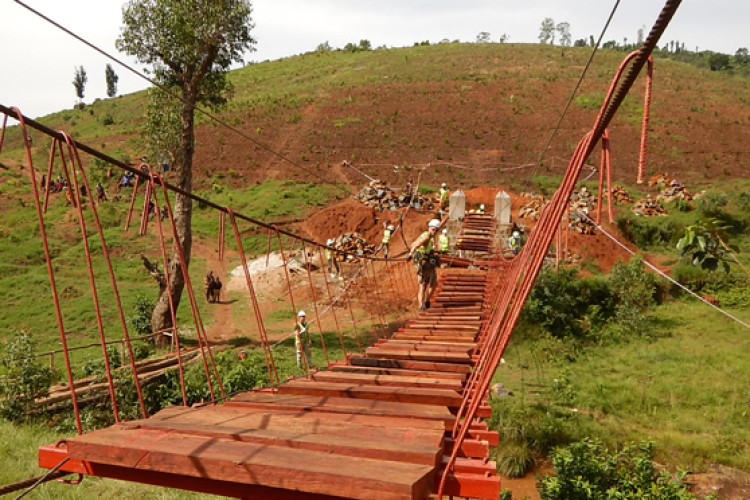 The volunteers worked closely with people from the Nyaraguru district to construct the 38m suspended footbridge across the River Akanyaru. The bridge replaces a dangerous temporary timber footbridge that was impassable during the two month rainy season.
Bridges to Prosperity aims to eliminate poverty caused by rural isolation, and projects provide access to healthcare, education, and markets by teaching communities how to build footbridges over impassable rivers.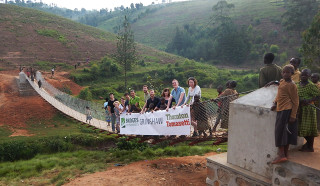 Construction of the bridge used locally sourced materials such as rock from a nearby quarry. Now that it's complete, the bridge will be owned, maintained and managed by a trained team from the community that depends on it.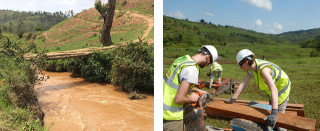 The new bridge is a lifeline that connects a community of approximately 1,500 people to vital amenities that are only available on the far side of the river. This includes regional markets for farmers to sell their produce, schools and education for the local children, and clinics and healthcare facilities for pregnant mothers and the sick.
The team rented the village bar, turning the watering hole into accomodation for ten. Fortunately, beer continued uninterrupted – though unrefrigerated. The team enjoyed local life, entertaining children with games and challenging locals to a friendly football match that ended in a devastating 7-6 defeat.
Grimshaw thanked sponsors Skanska, Land Use Consultants, Momentum Transport Planning, ABC Imaging, Dolphin Dispensers, and Corporate Traveller.
Got a story? Email news@theconstructionindex.co.uk