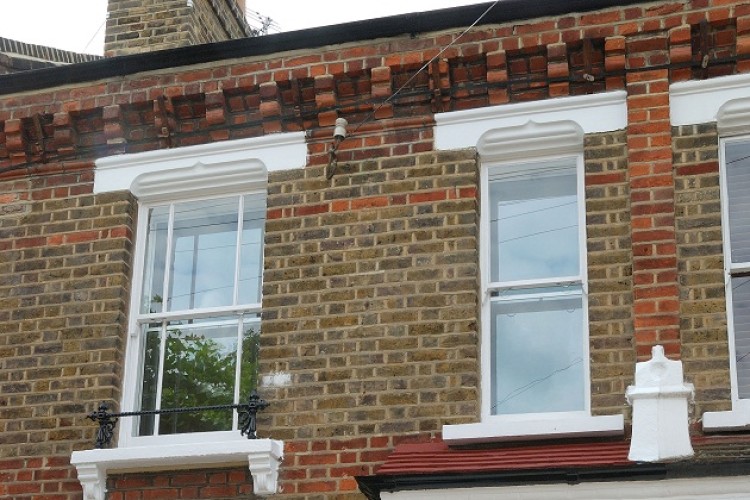 Work started on the project at the beginning of 2011. United House has fitted seven properties within the estate with internal wall insulation to the exterior solid walls and acoustic insulation to the party walls of bedrooms in terraced dwellings to reduce noise. The roofs of the properties will also be insulated to decrease heat loss. The existing ground floor suspended timber floors have been removed and replaced with a green 'eco slab' flooring that will help to stop heat escaping through the ground.
A mechanical ventilation heat recovery (MVHR) system has been installed within each roof space to help airflow through the properties. Photovoltaic panels have also been installed to five of the seven properties to convert sunlight to electricity and enable residents to benefit from the use of free electricity.
Further to these works, front and rear doors will be fitted with Pilkington energiKare™ Legacy vacuum glazing and NanoPore™ vacuum thermal insulated panels. The rear elevation windows have been replaced with JELD-WEN double glazed timber windows and the front elevation windows received upgraded draft proofing plus additional secondary glazing. Kitchens have been fitted with Chamois eco-kitchens and Triple A-rated appliances. All new sanitary ware has been sourced from the Green Building Store to ensure water consumption reduction, and high performance condensing eco-boilers have been fitted. Every environmental detail has been considered – even the paint used for decorating was from the Dulux Ecosure range, which is a low volatile organic compound product.
A specialist chromotherapy bath was also fitted into one of the properties, which provides a calming, sensory experience with bubbles, jets and lights that change colour.

Yarrow Housing Association, who work on creating vibrant new communities in the heart of London, will be handling the property lettings on behalf of the Dolphin Square Foundation.
Jeffrey Adams, group chief executive of United House, said: "Our work on the Queens Park Estate represents another successful eco-retrofit project for United House and has given us the opportunity to show our expertise in low-carbon refurbishment of social housing, delivering warmer, more energy efficient homes and reducing carbon emissions in the heart of London."
Brian Ham, Chief Executive of Dolphin Square Foundation, said: "We are delighted to have successfully delivered our first affordable housing development in the capital.  These homes will now provide the residents with a high quality and bespoke living environment, setting a new standard in quality, design and environmental measures for renovated buildings in a conservation area. We have worked closely with both United House and Yarrow Housing to ensure that the quality of life is significantly improved for our residents with learning disabilities."
Got a story? Email news@theconstructionindex.co.uk