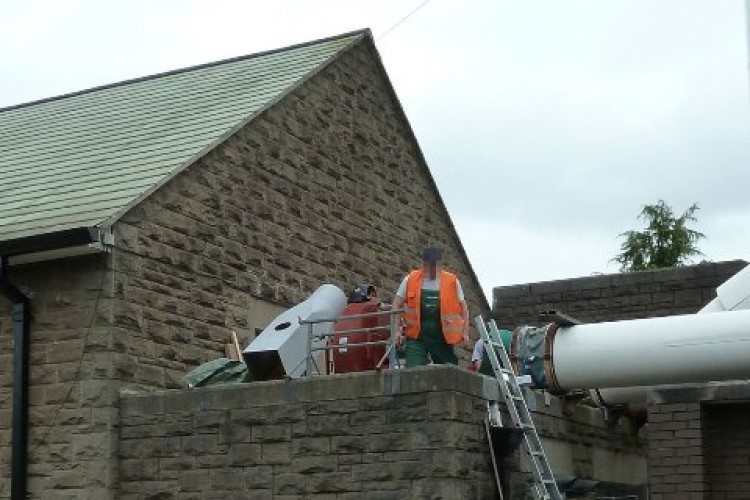 The workers, too, were themselves at risk - of falling.
Employees of IFZW Maintenance Ltd were allowed to work on the roof of Morriston Crematorium in Swansea without any protection from falls. This haphazard approach to safety landed the company in court.
Swansea Magistrates' Court heard yesterday (27 June) that IFZW was installing fans as part of a mercury abatement system when an inspector from the Health & Safety Executive made a surprise visit on 15 August 2011.
Two employees were seen working on the flat roof without any edge protection. They were using an unsecured ladder leaning on the wall to gain access, with members of the public walking past.
The company had already been served with a prohibition notice by the HSE for working on top of cremator equipment without fall protection at a site in Sheffield just nine weeks previously.
IFZW Maintenance Ltd, of High Street, Biggleswade, pleaded guilty to breaching Regulation 4(1) of the Work at Height Regulations 2005 for its failings, and was fined £11,500 and ordered to pay £3,208.30 in costs.

After the hearing, HSE inspector Anne Marie Orrells said: "It was entirely foreseeable that people could fall when accessing and working on the crematorium roof.
"On similar projects the company had correctly used scaffolding as edge protection. They recognised that there would be risks of falls when pipework was to be installed, and had intended to put scaffolding up at a later stage of the work to prevent their workers and subcontractors from falling.
"However, the installation of the fans was seen as short duration work and was done in the absence of safety measures. The decision to work in this manner is indicative of poor planning and management for work at height.
"A fall from the roof could have proved fatal and posed a clear risk to members of the public attending funeral services. The dangers of working at height are well known and the standards are well established within industry and legislation."
Workers on the roof of Morriston Crematorium in Swansea
Got a story? Email news@theconstructionindex.co.uk